Delaware Democratic Senator Chris Coons, who is a member of the Judiciary Committee, posted a video earlier tonight of him leaving for Washington D.C. to take part in the confirmation hearing for President Trump's Supreme Court pick, Judge Amy Coney Barrett.
Coons said in the video that he "will object" to the confirmation hearing "at every turn." He said that "We shouldn't even be holding these hearings – we should be delivering aid to Americans who are devastated by a pandemic."
He also lamented that his "Republican colleagues" are "starting a rushed, partisan confirmation process for Judge Barrett."
His opponent in November's election, Lauren Witzke, responded to his tweet by saying, "I can make this easy for you."
She then laid out two proposals to solve the problems he mentioned. "Get the $1,200 direct aid stimulus package on President Trump's desk in the morning" and "confirm ACB by lunchtime" she said.
"Imagine all of the time I just saved you from having to complain on Twitter about doing your job," she added.
I can make this easy for you.

1.) Get the $1,200 direct aid stimulus package on President Trump's desk in the morning.

2.) Confirm ACB by lunchtime.

Imagine all of the time I just saved you from having to complain on Twitter about doing your job. https://t.co/TpXiucD3vZ

— Lauren Witzke (@LaurenWitzkeDE) October 12, 2020
We reported earlier how Coons had appeared on Fox News with Chris Wallace this morning and said that the Senate moving to confirm Barrett "constitutes court-packing," and he also called the nominee's views "disqualifying."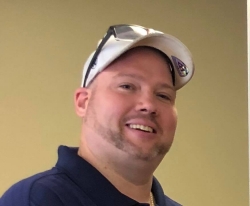 Latest posts by David Caron
(see all)