An apparent confrontation today played out between House Rep. Cori Bush (D-MO) and House Rep. Marjorie Taylor Greene (R-GA) while Greene was on Facebook Live in the halls of the Longworth House Office Building, attempting to share a message with her followers.
The confrontation began when Greene was doing the live-stream with her mask down so that her viewers could better understand her and Bush appeared to take exception to that and told her to put her mask up.
A back and forth ensued, with Greene appearing to yell back at Bush not to be a "hypocrite" and that her party shouldn't bring COVID-positive congress members into the building.
Following the exchange, Bush took to Twitter and said, "Maskless Marjorie Taylor Greene & her staff berated me in a hallway. She targeted me & others on social media."
"I'm moving my office away from hers for my team's safety. I've called for the expulsion of members who incited the insurrection from Day 1. Bring H.Res 25 to a vote," Bush added.
Greene currently occupies 1023 Longworth House Office Building and Bush is at 1016 Longworth House Office Building. It is unclear how easy it will be for Bush to move her office.
Parkland shooting survivor and activist David Hogg, who we reported about yesterday as having spoken out against Greene, replied to Bush, "Did she say she was armed this time too?"
Did she say she was armed this time too?

— David Hogg (He / Him) (@davidhogg111) January 29, 2021
Greene, for her part, tweeted the video of the confrontation and had some harsh words for Bush.
"Rep. @CoriBush is the leader of the St. Louis Black Lives Matter terrorist mob who trespassed into a gated neighborhood to threaten the lives of the McCloskey's. She is lying to you. She berated me. Maybe Rep. Bush didn't realize I was live on video, but I have the receipts," Greene said.
Rep. @CoriBush is the leader of the St. Louis Black Lives Matter terrorist mob who trespassed into a gated neighborhood to threaten the lives of the McCloskey's.

She is lying to you. She berated me.

Maybe Rep. Bush didn't realize I was live on video, but I have the receipts. https://t.co/CJjnI3ZTjC pic.twitter.com/ZMLGOGjxKw

— Marjorie Taylor Greene 🇺🇸 (@mtgreenee) January 29, 2021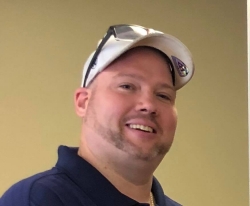 Latest posts by David Caron
(see all)