Country music legend Lee Greenwood, along with Breland Homes, announced plans today to construct a custom-built home for a "wounded warrior" in Alabama.
Greenwood posted on Facebook, "After meeting Louis and Patti Breland of Breland Homes in Huntsville, AL a couple months ago we started talking about doing something to a help a veteran in North Alabama."
"We are proud to announce a partnership with Helping a Hero to provide a custom-built home for a wounded warrior in North Alabama during my #40YearsofHits Concert October 12," Greenwood added.
Greenwood has found success in recent years as his patriotic song, "God Bless the U.S.A.," which was released in 1984 hit No. 1 on Billboard Magazine's Digital Song Sales chart in July 2020.
The song saw a resurgence after being played often by former President Donald Trump at his rallies, with Greenwood even appearing occasionally as well.
From AL.com:
Louis Breland said he and his wife were eager to be a part of the project.
"When Patti and I met Lee Greenwood and learned about his partnership with Helping a Hero to build homes for our veterans we jumped at the chance to help." Said Louis Breland. "Our nation's military and the heroes that fought for our country have a special place in our hearts and we are always looking for opportunities to honor and support them. I can't think of a better way to do this than to build a home for a wounded warrior in our community."
Helping a Hero raises funds and works with building partners to design the homes so they are specially adapted to the hero's needs. Most homes include wider doorways and hallways, roll-in showers, roll under sinks and other adaptations to help our military veterans regain their daily independence after suffering combat related injuries.
"Helping a Hero is excited to partner with Breland Homes to build a specially adapted home for a wounded hero in Alabama," Meredith Iler, Helping a Hero's chairman emeritus and founder of its home program, said in the announcement. "We are counting on Alabamians to help us locate a brave and deserving wounded veteran who was injured while serving the country and needs an adapted home. Our veterans have sacrificed so much for our freedom, and this is a way to say 'thank you for your service.'"
In order to qualify, a veteran must be 100 percent permanently disabled and injured in combat during the post 9-11 Global War on Terror. Click here for more information on the Nominate a Hero project. Click here for more information on the Selection Process.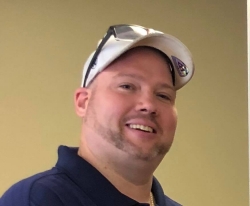 Latest posts by David Caron
(see all)