UPDATE: Mike Billand gave us a statement about the allegations against Crenshaw:
"Dan Crenshaw claimed that the American people were lied to when former President Trump's supporters demanded election integrity. But was Dan honest about whether or not he may have improperly profited from Americans while they were locked down?"
Allegations have surfaced against U.S. House Rep Dan Crenshaw (R-TX) for allegedly not initially disclosing stock trades while negotiating the Cares Act last March, at the beginning of the pandemic.
The transactions would therefore be in violation of the STOCK Act, a law that requires members of Congress to tell the public when they engage in securities trades.
It was also reported that Crenshaw did not buy or sell any stocks in his first 13 months as a congressman, prior to the reported stock trades, which are listed only in a range of values and add up to a maximum of $120,000.
Justin Discigil, Crenshaw's communications director, attempted to downplay the situation, telling the Daily Beast in an email that they're "referencing financial disclosures that use a range to report stock purchases" and they're "choosing the upper end of the range to come up with that $120,000 figure."
Discigil insisted that "The real number is around $30,000 at most" and "in no way were his purchases unethical or related to official business."
When alerted to the news, Crenshaw's recently announced primary opponent, Mike Billand, did not hold back in his criticism in a tweet.
Billand tagged Crenshaw and said, "The only thing that Dan Crenshaw cares about is Dan Crenshaw. Texas deserves better. Houston deserves better. The American people deserve better!"
The only thing that @DanCrenshawTX cares about is Dan Crenshaw.

Texas deserves better.

Houston deserves better.

The American people deserve better!https://t.co/1pslsOpqUL

— Mike Billand (@billand_mike) March 9, 2021
In the wake of the January 6th tragedy in Washington D.C., Crenshaw sought to lay some blame on the Trump team, claiming that the American people were "lied to" in the wake of what some might call election integrity efforts.
Recently we reported on Billand's newly announced run against Crenshaw, in part:
Billand is a strong supporter of President Trump's and feels Crenshaw has abandoned the concept of representing his constituents in his quest for popularity on a national level. This coupled with Crenshaw's partnering up with former U.S. Ambassador Nikki Haley, who has also signaled she no longer supports Donald Trump, adds to a level of distrust among many Republicans in Texas and around the nation as well.
Although Crenshaw represents the Second District of Texas, he has a large national platform and many around the nation feel he has fooled people into believing he was something he actually isn't. Crenshaw often ran in the same circles as former President Trump's strongest supporters but was faster to criticize Trump than most other GOP Congressman. He also voted with House Speaker Nancy Pelosi (D-CA) and against Confederate monuments. Billand is against removing historical monuments.
Crenshaw also appears to be a pro-war Republican, something many in both parties have grown weary of. He has also signaled support for 'Red Flag' laws to confiscate guns from people who have not committed a crime that would warrant such confiscation. Many are hungry for new leadership, despite Crenshaw's large platform on social media and with establishment Republicans like Nikki Haley.
Billand tells Media Right News that what's different about him is that he's a blue-collar American who works hard and doesn't plan to be beholden to ideologies backed by large corporations and special interest groups that plague both parties. Billand wants to represent the people of Texas' Second District, and the United States first, before anything else.
This is a commonly used mantra by many politicians, but often they don't mean it, and it appears that Billand is genuine to us. Billand says that he doesn't come from money, and has worked hard for what he has, and is a business and finance-minded individual.
He has been passionate about politics for about 6 years and feels it's time to get involved. He believes Dan Crenshaw has really turned out to be a 'RINO' and wants to give people another option. Born in Baltimore, Billand is now a Houston resident and wants it to be known that there's no place other than Texas he'd rather live.
Read that full story here and stay tuned for potential updates. We reached out to Mike Billand's campaign and are awaiting a possible comment on the matter. It's notable that Crenshaw's campaign has already responded to The Daily Beast on behalf of the initial story with the allegations.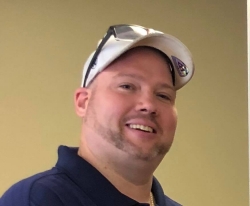 Latest posts by David Caron
(see all)