In a press release yesterday, the Delaware State Police released the names of the victims that were shot and killed in a brutal rampage on Friday morning in a Delaware veteran cemetery.
The 86 year old male victim has been identified as Paul C. Marino of Elkton, MD and his wife was 85-year old Lidia Marino, of Elkton, MD.
An online obituary for the couple gave an insight into their lives. Mrs. Marino was born in Italy and a homemaker, a seamstress, and enjoyed needlepoint and cooking.
Mr. Marino was a veteran of the U.S. Army and retired from the printing industry as a lithograph printer. An accomplished photographer, he enjoyed painting, woodburning, playing the guitar, and playing the Lotto.
Conservative news organization, The Red Elephants, had previously reported that the couple was white based on an anonymous eyewitness account and this confirms that account. The gunman was a black male, 29-year old Sheldon Francis.
This is a direct account from their source:
"The shooter pulled up in a Honda, got out, was in all black and approached Mr and Mrs [redacted], shot Mrs [redacted] first, then Mr [redacted], then immediately ran to the woods."
Their source continued by saying: "He's 29. And no connection (to the victims) at all. He was wearing a black hoodie black pants, black mask, hood up, black gloves, black boots."
"I know the guy had a lot of ammo. It seems as if he set himself up in the ditches with ammo because the police were saying that their drone could see him but they couldn't get eyes on him. He had to have planned this for a while because most people don't know those woods like that."
"The police were saying "Hes trying to take our drone out!" And then my [redacted] had to hang up on me."
On Sunday, they reported that multiple publications reported that Francis had social media posts suggesting "he was particularly troubled by the killing of Ahmaud Arbery".
It would clearly be possible that the reporting surrounding the Ahmed Arbery incident in Georgia fueled the incident. "authorities are now exploring whether the cemetery shooting may have been racially motivated."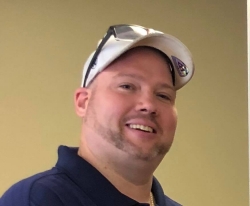 Latest posts by David Caron
(see all)