On Tucker Carlson Tonight, Carlson released video from the U.S. Capitol on January 6th, 2021. The videos released by Carlson tell a very different story than the one pushed by the mainstream media as well as many members of Congress. Former President Donald Trump had only praise for Carlson.
Greg Price shared clips from Carlson's report on Twitter.
"BREAKING: Never before seen video of January 6 shows Jacob Chansley, the QAnon Shaman, being led through the Capitol by police the entire time that he was in the building."
Price shared another video in which Carlson counters the narrative about the death of capitol police officer Brian Sicknick.
"BREAKING: Never before seen January 6 footage shows Capitol Police Officer Brian Sicknick walking around the building after the time media outlets claimed he was killed by protesters. The J6 Committee had access to this tape but refused to release it."
"Full and conclusive proof that @AdamKinzinger, @Liz_Cheney, @RepAdamSchiff, and the rest of the J6 Committee knowingly and willingly lied to the American people about how Brian Sicknick died."
Carlson's report then touched on Ray Epps who Carlson has suggested might have been working with the Federal Government to create chaos on January 6th.
"BREAKING: January 6 footage shows that Ray Epps lied to the J6 Committee about when he left the Capitol on that day. J6 Committee members likely knew this but defended him anyway."
Twitter user Abigail Marone retweeted a clip Price shared of members of congress running away from the chaos in the capitol building.
Marone tweeted, "Ah, so you're telling me the Very Serious™ January 6 committee lied about and manipulate their footage for political purposes? I never would've guessed."
Carlson then share about the producer who was hired by the January 6th Committee to produce content for the publicized hearings.
Marone echos Carlson's report in a tweet about the producers of the content for the January 6th committee.
"Reminder that the "producers" who the clownshow Jan 6 committee hired knew what they were doing when they lied to the American people. They had all the footage and chose to take it out of context to go after their political opponents like Josh Hawley. And they bragged about it."
Former President Donald Trump Truthed about Carlson's report:
"Congratulations to Tucker Carlson on one of the biggest "scoops" as a reporter in U.S. history. The New Surveillance Footage of the January 6th Events sheds an entirely different light on what actually happened. The Unselect Committee was a giant SCAM, and has now unequivocally been stamped as CRIMINAL FABRICATORS OF THIS MOST IMPORTANT DAY. Pelosi & McConnell failed on security. The Police story is sad and difficult to watch. "Trump" and most others are totally innocent, LET THEM GO FREE, NOW!"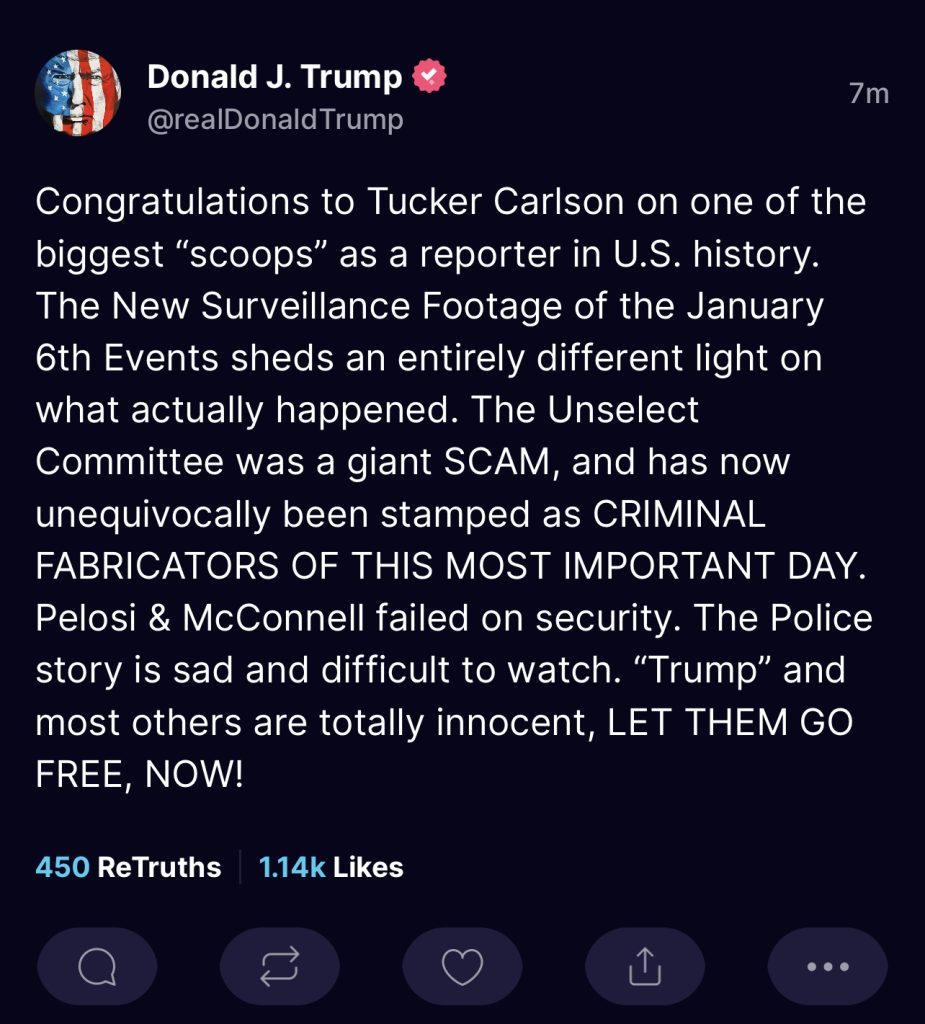 You can see Carlson's report from Monday night below:
Latest posts by Kay Williamson
(see all)