Elon Musk today (jokingly?) announced a "Save-a-celebrity-fund" to pay their $8 for a Twitter checkmark and insisted, "We take this matter very seriously."
Musk made the announcement in response to a tweet from leftist Ed Krassenstein, who has generally made an attempt to be more civil with those whose viewpoints he opposes than most on the left.
Krassenstein also has paid the monthly fee to continue to be verified on the platform, despite objections from those who share his viewpoints.
In a tweet, Krassenstein said, "The attacks on Alyssa Milano are out of line. She brought up a concern I think a lot of celebrities have."
"Celebrities on Twitter are left with 3 choices right now:
1) Pay the $8.00.
2) Cancel their Twitter Account.
3) Know that some of their fans will be misled, possibly defrauded, and that they may be defamed. While you may not agree with Milano's take on this, she brings up choices that virtually every celebrity has to make. As hard as it is to believe."
"@elonmusk, some celebrities may not like you. They may feel like paying $8.00 goes against everything they believe in. This means they either close their account down or allow their fans to be misled. Most will likely choose the latter, and this isn't good for them, their fans, Twitter or for Elon Musk. I think the solution here is to put just a small tag on legacy verified Twitter profile pages indicating they were verified under the old system. It doesn't need to be prominent and it doesn't need to show up next to every tweet or reply these users make. It could be exclusive to the user's profile page. It allows fans to click through to a profile to see if it's legitimate. So this will allow Elon to still sell the blue checks, but also allow celebrities to maintain verification, just in a less prominent way. What are everyone's thoughts?"
In response, Musk told him, "We've started a "save-a-celebrity fund" to pay their $8. We take this matter very seriously."
Krassenstein replied, "LOL! Actually I think this could be a solution, even though I'm not sure if you are serious."
Musk then responded with two laughing face emojis and insisted, "It's a real thing."
We've started a "save-a-celebrity fund" to pay their $8. We take this matter very seriously.

— Elon Musk (@elonmusk) April 21, 2023
As we have previously reported, many celebrities are having meltdowns after the checkmarks were removed yesterday.
Musk has said that he has paid for a couple of celebrities' checkmarks to remain.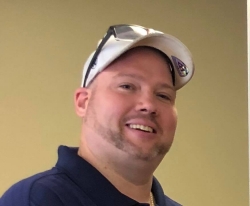 Latest posts by David Caron
(see all)