Today, Elon Musk taunted leftist horror author Stephen King after he jabbed at Twitter's advertising woes in a tweet yesterday.
King initially lamented on Monday in a tweet, "The damn political ads stopped just in time for the damn Christmas ads to start."
That led to a subsequent tweet where King insisted, "The next time I hear 'Holly Jolly Christmas' I'm gonna blow up my radio."
That tweet from King was ironic considering that on Sunday, King said, "Another mass shooting. Don't know if it was an AR-15 style rifle, but am guessing it was. The psychos love them."
Following his Christmas complaints, King made a joke in a tweet as he said, "I had to take my biscuits to the doctor. They felt crummy."
"Sorry. That one was pretty bad," King added in another tweet.
King then followed that up with a tweet where he said, "Speaking of bad jokes, Elon Musk says Trump can get back on Twitter."
After taking a brief break, King said yesterday, "Pretty soon the only advertiser left on Twitter will be My Pillow."
Musk responded today, "Oh hi lol."
Musk then had jokes of his own as he wondered in a reply, "Is My Pillow actually a great pillow? Now I'm curious."
"What *is* the best pillow?" Musk asked in another reply.
The Hodgetwins also replied to King as they said, "Stephen King of saying he's going to leave Twitter but never does."
Oh hi lol

— Elon Musk (@elonmusk) November 23, 2022
King and Musk previously sparred as he suggested that he would leave Twitter if he was forced to pay $20 per month to be verified.
Musk told King, "We need to pay the bills somehow! Twitter cannot rely entirely on advertisers" and then asked, "How about $8?"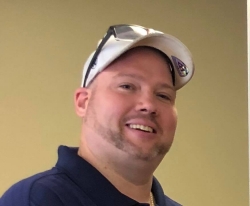 Latest posts by David Caron
(see all)