In April of 2015, there were riots in Baltimore after Freddie Gray died in police custody. The president Barack Obama assailed the "criminals and thugs who tore up the place," and described them as a distraction from the real issues of police brutality.
When Trump tweeted that "These THUGS are dishonoring the memory of George Floyd," many have been quick to condemn the use of the phrase and some have called it racially motivated.
Chicago Mayor Lori Lightfoot said during a news conference yesterday, "Donald Trump's comment last night was profoundly dangerous and we must stand firm in solidarity and say this is totally unacceptable no matter who is the speaker."
"He wants to show failures on the part of Democratic local leaders, to throw red meat to his base," she added, according to WGN9. "His goal is to polarize, to destabilize local government and inflame racist urges. We can absolutely not let him prevail. And I will code what I really want to say to Donald Trump. It's two words. It begins with F and it ends with U."
From CNN:
But let's not lose the forest for the trees here. Yes, it's a big deal that Twitter has put a warning label on a tweet from the President. But the MUCH bigger deal is that the President of the United States is, again, abandoning any sort of moral leadership in a moment of national crisis — choosing instead to inflame and incite rather than instill calm.
Look specifically at what Trump tweeted. The use of the word "THUGS" is clearly coded racial language.
While many have used the death of Floyd to say that minorities, specifically black people, are treated differently by the police, there is a clear double standard when it comes to speech as well, even when it comes to the president.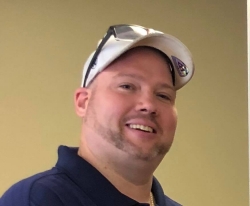 Latest posts by David Caron
(see all)