OPINION:
In the wake of the destructive and tumultuous Coronavirus (COVID-19) Pandemic, the federal government, and many states have issued temporary orders to restrict non-essential activities.
Yesterday, Florida Governor Ron DeSantis (R) issued an executive order delaying all non-essential, elective medical procedures that would not endanger patients' health as the state responds to the growing Coronavirus outbreak. Abortion is not mentioned in the order, either to condone it or specify it as "essential" leaving it open for interpretation.
Today, State House Rep Mike Hill (R) posted on Facebook asking why the "American Family Clinic abortion mill in Pensacola" is still open? He also claimed that it has been brought to his attention that a "Pensacola city employee used a city vehicle today to transport a young lady" there "for the elective procedure of an abortion." See the Facebook post from his personal profile below:
According to the website of the American Family Planning of Pensacola, they are "a private medical and counseling facility. AFP was established in Northwest Florida to provide low-fee, confidential medical care to women of all ages." Interestingly though, four out of the five non-basic drop-down options involve abortion with only gynecological services as the other. This begs the question as to how essential their services are, and if staying in business could actually be contributing to the spread.
On their website, they claim to offer same-day appointments and if you click on that, the only two options for that are abortions. Clicking through that you can find appointments available the next day for $595 each.
Media Right News reached out directly to the clinic to see if they had anything to say for themselves. The receptionist who answered the phone said that "they are still doing abortions", but that "the next available appointment wouldn't be until Friday". When asked about whether or not she believed they were in compliance with the executive order, she justified the abortions as essential simply by saying that the procedures were "time-sensitive."
Well, it would seem that time-sensitive is a subjective thing, and many things, such as jobs, home sale closings, entertainment events and a vast amount of other things that have been canceled, lost, or ruined could be considered time-sensitive as well. This being the case perhaps the Governor will catch wind of Rep Hill's outrage and add an addendum to his order to halt these clinics from operation.
A Facebook user caught wind that the clinic was still open and posted a video, complaining that Outback Steakhouse was enabling them to stay in operation by delivering them food. "Dear Pensacola, Please Tell Outback Steakhouse what you think about them delivering food to all the staff at American Family Planning Abortion Clinic this evening. I for one will never eat there again." Watch the video below:
According to statistics published by the pro-choice research organization, Guttmacher Institute, in 2017, 71,050 abortions were provided in Florida, though not all abortions that occurred in Florida were provided to state residents. According to the latest report, 12 people have now died in Florida due to the Corona Virus.
This means that despite all the efforts by local, state and federal officials, abortion is still killing far more people than the Corona Virus to this day. For conservatives, and in fact all people concerned with public safety, it's a great thing Mike Hill is doing his diligence and calling these abortion mills to account.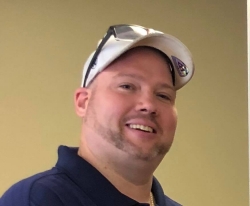 Latest posts by David Caron
(see all)