Today is former Vice President Dick Cheney's 80th birthday and CNN reported last night that former President George W. Bush, who he served with, planned to give him a birthday call.
According to Bush's chief of staff, Freddy Ford, Bush also plans to praise his daughter, House Rep. Liz Cheney (R-WY) during the call with his former vice president.
Cheney, who voted to impeach former President Trump and Ford indicated that Bush supported that decision. She is now facing a tough primary challenge next year.
Ford said in regards to Bush's support for the primary, "You're a few months ahead of us — we aren't thinking about the next election cycle yet."
"I do know that President Bush is planning to call VP Cheney tomorrow for two reasons: to wish him a happy 80th birthday, and to thank him for his daughter's service," Ford added.
Previously, we reported that a new political group founded by former Trump campaign manager and senior advisor Corey Lewandowski is raising money to defeat third-ranking Republican in the House.
In a Gateway Pundit interview with Cheney's primary challenger, State Senator Anthony Bouchard, he said that he "Won't give cover and comfort to Pelosi and radical left" as she does.
A graph showed that Bouchard has large advantages at this point among GOP and Trump voters at 54%-21% among GOP voters and 61%-13% among Trump voters.
Bouchard also talked about his work supporting the second amendment and how that relates to his primary challenge against Cheney. He pointed out, "My political activism led to founding Wyoming Gun Owners and today I am a member of the state senate, serving my second term."
"This also highlights several key differences between Liz Cheney and myself. While I fought Obama care, Liz Cheney refused a house floor petition to get Obama Care Repeal out of committee," Bouchard continued.
Bouchard concluded, "The contrast is clear, she is from a political dynasty and my background is working with grassroots conservative leaders to fight for taxpayers and defend our freedom."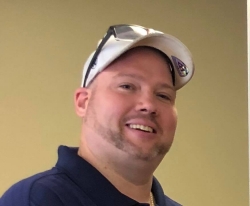 Latest posts by David Caron
(see all)