A viral video that was recently took in Plano, Texas shows a man getting out of his car and confronting Black Lives Matter protesters who were blocking an intersection in the city.
For weeks, some North Texans have demanded the arrests of the eight officers involved in the death of a 26-year-old black man Marvin Scott III, who died in March while in police custody at Collin County Jail.
Directly afterward, seven officers were fired, one resigned, and last week, Scott's death was ruled a homicide which led to supporters marching on Sunday through Plano and Frisco to "honor" Scott.
They had one last intersection to cross before finishing, said community advocate Hava Johnston when Traffic stalled as the protesters headed toward the parking lot of a Plano Chick-fil-A.
That is when the man got out of his car after being held up by the group, who were walking in between cars and screaming "black lives matter," as well as the more threatening catchphrase that the group uses, "if we don't get it, shut it down."
The man demanded the protesters get out of the roadway and yelled, "Get them out of here!"
The protesters are upset now that he wasn't arrested and in the title to the video, they refer to him as a "white racist."
Members of Antifa have doxed the man on Twitter, revealing his name and accusing him of being a representative and owner of GNC stores.
A member of the group tagged them on the social media site and they responded by disavowing the man, claiming that he "has not owned a GNC franchise store in over a decade."
"This alleged behavior is a abhorrent and does not reflect GNC's values," they added.
Mr. Godber has not owned a GNC franchise store in over a decade. This alleged behavior is a abhorrent and does not reflect GNC's values.

— GNC (@GNCLiveWell) May 4, 2021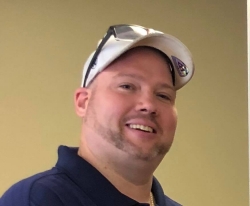 Latest posts by David Caron
(see all)