Greg Gutfeld responded to the news that Brian Stelter had been canned at CNN with a brutal takedown of the soon-to-be former "Reliable Sources" host.
Stelter departs CNN after hosting "Reliable Sources" since November 2013 as the company makes cuts and goes in a different direction with flailing ratings.
Gutfeld mocked in a tweet, "Yo @brianstelter – my show is hiring."
Yo @brianstelter – my show is hiring.

— GregGutfeld (@greggutfeld) August 18, 2022
At the beginning of the month, it was reported that Gutfeld had the 3rd most watched show in all of cable in the 18-49 demographic with his late-night show "Gutfeld!"
"Gutfeld!" reeled in 2.15 million viewers nightly in that demographic and was the 2nd most watched late-night show.
The program also topped every show on CNN and MSNBC in the 25-54 demo and averaged nearly 2 million viewers 326,000 with A25-54, outpacing ABC's "Jimmy Kimmel Live!" and NBC's "The Tonight Show with Jimmy Fallon" in total viewers.
FNC's late-night show also topped Comedy Central's "The Daily Show" across the board in total viewers and the younger 25-54 demo, Fox News reported at the time.
❤️‍🔥🔥🧑‍🚒 Congrats @Gutfeldfox with @greggutfeld

The show was ON FIRE Tuesday!

The 3rd most watched show IN ALL OF CABLE in the almighty 18-49 demo!

2.15 MILLION viewers@KatTimpf @PlanetTyrus @larry_kudlow @SonnieJohnson

Producers @ArashMosaleh @tommyoconnor pic.twitter.com/4wlygLJNF1

— Cable News Watch (@CableNewsWatch) August 3, 2022
In regards to Stelter's upcoming departure, CNN said in a statement, "We appreciate his contributions to the network and wish him well as he embarks on new endeavors."
Stelter promised to say more about the departure during the episode, which airs Sunday, August 21, but for now, he said, "It was a rare privilege to lead a weekly show focused on the press at a time when it has never been more consequential."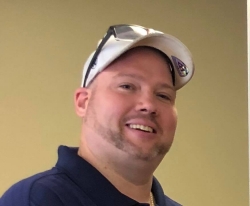 Latest posts by David Caron
(see all)