Elon Musk made what many believe is a cryptic tweet yesterday when he tweeted out an Elvis Presley hit song title, "Love Me Tender."
As Bloomberg explained, it was a likely wink-and-nod reference to a potential tender offer to Twitter shareholders for control of the company, if his bid is rejected.
The tweet by Musk has been liked nearly 350k times and it caused the word "tender" to trend on the social media platform.
🎶 Love Me Tender 🎶

— Elon Musk (@elonmusk) April 16, 2022
Twitter user "Daniel" shared a screenshot of the Wikipedia definition of "Tender offer" in a tweet and wondered, "Elon Musk just tweeted 'Love Me Tender'. Could this be his Plan B?"
In an interview on Thursday at TED2022 in Vancouver, Musk said that he has a "plan b" if Twitter doesn't take his buyout offer: "I don't like to lose."
Elon Musk just tweeted 'Love Me Tender'. Could this be his Plan B? 🤔 pic.twitter.com/m361xEfyW7

— Daniel (@Daniel986_gmail) April 17, 2022
Verified Twitter user Jim Hanson, who is the Executive Director of America Matters and author, replied to Musk by noting, "It's good to be the King."
Hanson then suggested in a reply, "If you have a retirement fund Check with whoever manages it to find out if you own Twitter stock.
"Let them know immediately that if Elon makes a tender offer for Twitter, you wish to be part of it," Hanson urged.
Hanson insisted, "One way or another we will #FreeTheBird"
If you have a retirement fund
Check with whoever manages it to find out if you own Twitter stock

Let them know immediately that if Elon makes a tender offer for Twitter
You wish to be part of it

One way or another we will #FreeTheBird

— Jim Hanson (@JimHansonDC) April 17, 2022
If Musk was simply highlighting the music, here is a clip of Elvis Presley performing "Love Me Tender" on The Ed Sullivan Show in 1956: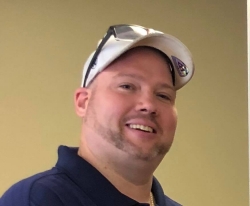 Latest posts by David Caron
(see all)