Florida GOP Gov. Ron DeSantis was the subject of an indirect attack by President Joe Biden at his press conference yesterday.
In regards to federal directives that he wants to impose, Biden said, "If these governors won't help us beat the pandemic, I'll use my power as president to get them out of the way."
Biden added that the federal government had already begun taking legal action against states undermining local authorities.
As the Washington Examiner noted, While Biden did not name Florida Gov. Ron DeSantis directly, the president has sparred repeatedly with him over COVID-19 protocol in recent months.
In a fundraising email sent out this morning, DeSantis made it clear that he was not going to be pushed out of the way by the president.
DeSantis wrote, "Joe Biden says he will 'get me out of the way' to impose new federal directives. Well, I've got news for Joe, I'M NOT GOING ANYWHERE."
At a veterans appreciation event today, DeSantis was asked about what Biden said and as TPUSA's Benny Johnson put it, "DeSavage just ended Biden. This is not even fair. I love living in Florida."
In a video clip tweeted by Johnson, DeSantis explained, "The problem I have with Joe Biden more than anything, this guy doesn't take responsibility for anything."
DeSavage just ended Biden.

This is not even fair.

I love living in Florida.pic.twitter.com/xBYVza8v7P

— Benny (@bennyjohnson) September 10, 2021
WTVJ reported on remarks by DeSantis:
"When you have a president like Biden issuing unconstitutional edicts against the American people, we have a responsibility to stand up for the Constitution and to fight back, and we are doing that in the state of Florida, This is a president who has acknowledged in the past he does not have the authority to force this on anybody and this order would result potentially in millions of Americans losing their jobs. I think we should be protecting people's jobs, not trying to kick people out of work right now. And that's exactly what we're going to be doing in Florida."
Biden doubled down on his words today, tweeting out the clip from his speech yesterday where he made the comments.
"Our plan takes on the elected officials in states that are undermining the life-saving actions we need to take to defeat COVID-19. If these governors won't help us beat the pandemic, we will get them out of the way," Biden reiterated in the tweet.
Our plan takes on the elected officials in states that are undermining the life-saving actions we need to take to defeat COVID-19.

If these governors won't help us beat the pandemic, we will get them out of the way. pic.twitter.com/8XcibeNeV4

— Joe Biden (@JoeBiden) September 10, 2021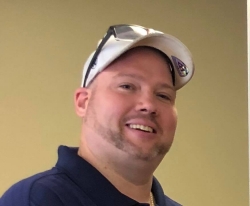 Latest posts by David Caron
(see all)