NFL "Fox Sports Sunday" broadcaster Terry Bradshaw revealed today that he has been battling cancer as co-host Michael Strahan offered words of praise.
As we previously reported, NFL fans expressed concern after watching Bradshaw show major lapses while presenting the highlights section.
The concern dated back a few weeks as a Twitter-verified fantasy sports expert was one of the first to question Bradshaw's apparent decline.
Bradshaw began, "Last week on this show, I ran out of breath and Howie [Long] helped me up and I just want to address it and let you know what has happened in my life."
"In November, I was diagnosed with bladder cancer. I went to the Yale University medical center [had] surgery, [had] treatment, as of today I am cancer free."
"Then in March, feeling good, I had a bad neck, I get an MRI, now we find a tumor in my left neck and it's a Merkel-cell tumor which is a rare form of skin cancer."
"So I had that surgery done at M.D. Anderson in Houston. Folks, I may not look like my old self, but I feel like my old self, I'm cancer free, I'm feeling great, and over time I'm going to be back to where I normally am and I appreciate your prayers and concern."
After the studio audience applauded, Strahan then jumped, while applauding himself, and called Bradshaw the "ultimate teammate" who "holds the show together."
"We are just so happy that you are here and happy that you are cancer-free," Strahan added while then jesting that he is surprised it took so long for people to ask what's wrong with Bradshaw.
During today's show, Terry Bradshaw shared that he has been battling cancer over the past year. As of today, he is cancer free, and he discussed his fight and plan for the future: pic.twitter.com/RSwVxlXC97

— FOX Sports: NFL (@NFLonFOX) October 2, 2022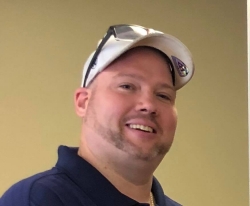 Latest posts by David Caron
(see all)