Many would not go into an hours-long hearing without preparatory notes of some kind or points of reference, but Judge Amy Coney Barret showed today that she is able to do so in a Senate Supreme Court confirmation hearing.
When it was Texas Republican Senator John Cornyn's chance to ask Barrett questions, at one point he said, "You know most of us have multiple notebooks and notes and books and things like that in front of us. Can you hold up what you've been referring to in answering our questions?"
Barrett grinned and held up a mostly blank notepad that had been sitting in front of her. "Is there anything on it?" Cornyn wondered. Breaking into a full smile, Barrett responded, "The letterhead that says 'United States Senate,'" as laughs and gasps were heard behind her.
Mary Miller, who is running for Congress in Illinois tweeted out about the exchange, saying that Barrett "Is honest, qualified, brilliant, and most importantly, understands the constitution and her role as a justice on the Supreme Court." She urged Barrett's confirmation.
Amy Coney Barrett holds up a blank notepad when asked to share the notes she was reading from during Senate interviews. She is honest, qualified, brilliant, and most importantly, understands the constitution and her role as a justice on the Supreme Court. #ConfirmAmyConeyBarrett pic.twitter.com/6Lb1JNdFv3

— Mary Miller for Congress (@Miller_Congress) October 13, 2020
Trump campaign team member Abigail Marone tweeted out a picture of Barrett holding up the notepad and said, "Yes, she's THAT smart."
When asked to hold up what she's been using to help answer questions, Judge Amy Coney Barrett holds up a blank notepad.

Yes, she's THAT smart. ? pic.twitter.com/lXnbsYSNAh

— Abigail Marone ?? (@abigailmarone) October 13, 2020
Liberal voices on Twitter were not as impressed, however, as one Twitter user, Icculus The Brave, said presumably about Cornyn: "Another brain dead Republican is very impressed with Amy Coney Barrett's blank notepad."
Another brain dead Republican is very impressed with Amy Coney Barrett's blank notepad pic.twitter.com/MMlGTny4xP

— Icculus The Brave (@FirenzeMike) October 13, 2020
Vox journalist and frequent Republican critic Aaron Rupar quipped, "Is this supposed to be impressive? Why?"
Is this supposed to be impressive? Why? https://t.co/Kyp1AgOVEB

— Aaron Rupar (@atrupar) October 13, 2020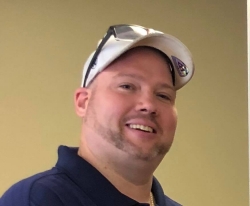 Latest posts by David Caron
(see all)