Democratic Presidential nominee Joe Biden's running mate Kamala Harris appeared in an exclusive interview with MSNBC's Rachel Maddow on Thursday night.
Harris made sure to let Maddow's viewers know, "The Senate makes decisions about who will be in these lifetime positions, on these courts, and it is there that these decisions will ultimately be made about our civil rights."
Harris then talked about Trump's nominees of judges to Federal courts since he has been in office. "Right now we don't have the majority on the Senate," she said.
She said that President Trump and "with this senate" they have not nominated one black judge out of 50 to the Court of Appeals.
Harris said that she has "been watching where they bring in these nominees who are unwilling to agree that Brown v Board of Education is precedent."
"It's crazy, I mean you know, to use a term," she exclaimed.
Without condemning violence from Black Lives Matter and Antifa, she said, "you know there's one thing we can do among the many things, let's not stop protesting, let's not stop being active, let's not stop speaking up and shouting when necessary."
She concludes by saying, "Let's vote, let's vote guys, let's vote."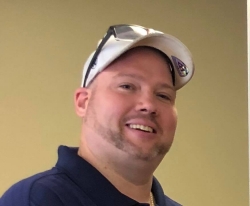 Latest posts by David Caron
(see all)