A video today showed U.S. House Rep Michael F.Q. San Nicolas (D-Guam) and members of the Guam National Guard visiting the office of U.S. House Rep Marjorie Taylor Greene (R-GA).
Guam Rep. Michael F.Q. San Nicolas and members of the Guam National Guard visited the office of Rep. Marjorie Taylor Greene after she falsely called the U.S. territory a foreign land. pic.twitter.com/81mqDK97St

— The Hill (@thehill) March 15, 2021
The visit comes after it was revealed that she lumped Guam in with countries that she believes should not be receiving our "hard-earned tax dollars" at an event outside of CPAC last month.
"I'm a regular person. And I wanted to take my regular-person, normal, everyday American values, which is, we love our country. We believe our hard-earned tax dollars should just go for America, not for what? China, Russia, the Middle East, Guam, whatever, wherever," Greene said.
Guam is a U.S. Territory and last year they received a large amount of federal funding from the Trump administration for public safety, infrastructure, education, energy and public utilities, healthcare, and other key government services.
This is not the first time, however, that a representative has been unclear about the island's place in America, in 2010, U.S. House Rep Hank Johnson (D-GA) wondered if the island might "capsize" if it had too many marines on it.
Arriving with members of the military could be seen as an attempt to politically intimidate and House Minority Leader Kevin McCarthy (R-CA) quickly came to Greene's defense.
Referencing the recent drama surrounding Tucker Carlson as well, McCarthy said, "@DeptofDefense is being politicized. Uniformed service members recently criticized a private citizen for his First Amendment rights, & today a Dem lawmaker used soldiers in a political stunt against a GOP member."
"@SecDef Austin—This sets a dangerous precedent. It must stop now," McCarthy demanded, sending a message to the Secretary of Defense Lloyd Austin.
.@DeptofDefense is being politicized. Uniformed service members recently criticized a private citizen for his First Amendment rights, & today a Dem lawmaker used soldiers in a political stunt against a GOP member.@SecDef Austin—This sets a dangerous precedent. It must stop now.

— Kevin McCarthy (@GOPLeader) March 16, 2021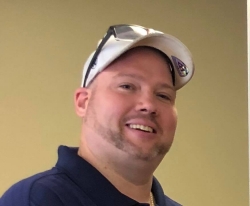 Latest posts by David Caron
(see all)