UPDATE 8-14-2020 2:25 ET: Lamar has apologized and removed the sign.
Thursday morning the city of Boise Idaho had a new billboard in circulation on an electronic sign by a major highway exit into town. The billboard message says "BLACK & BROWN FOLKS BUILT THIS COUNTRY (AND WE'RE DOING IT AGAIN) JOIN US OR GET OUT OF THE WAY!". The billboard has a depiction of what is supposed to be Boise, ID held up by black and brown hands with a cop car burning in front of the capitol building. Activist Nisha Jae Newton takes credit for the billboard idea with credit given to the activist artist Morgan Baxter, a junior graphic designer for Happy Family (Nurture Inc) for the design. Lamar Advertising owns the billboard and the community erupted in fury over the billboard and it was removed before the day was over.
Region IV GOP Chairman Edward R. Humphreys called on people to make phone calls and send emails about the billboard.
He later posted as what he saw as a win when the billboard was taken down, amazed at how quickly they were able to get the company to remove it.
Lamar Advertising received immense push back for allowing the message on their billboard. The local Lamar Boise page had accumulated at least 110 negative reviews on Facebook before the review feature was turned off by Facebook.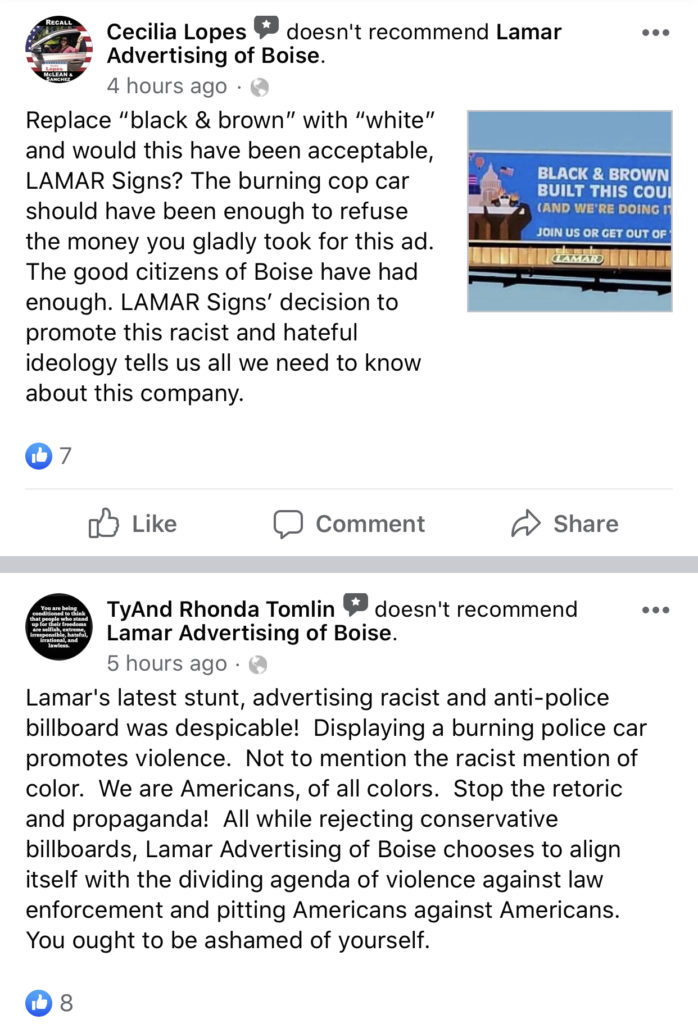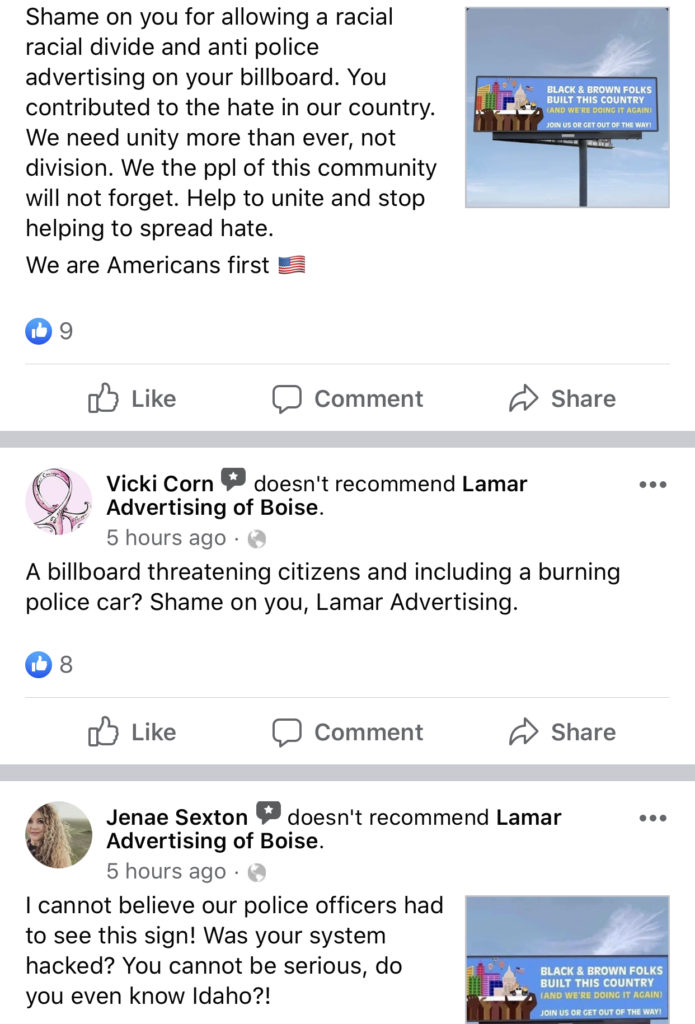 The corporate Facebook page was also littered with negative reviews as well regarding the anti-white anti cop billboard.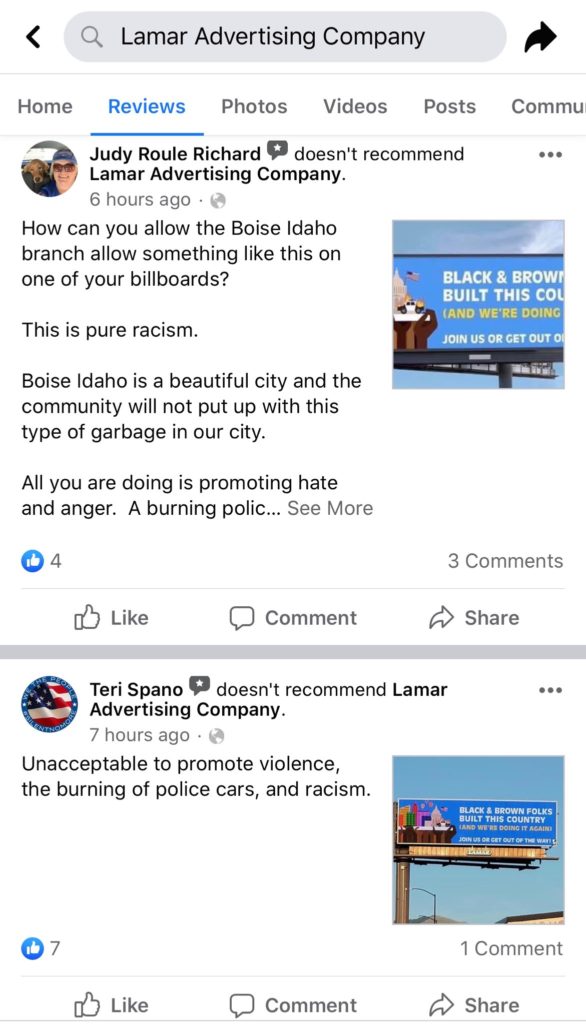 Code 3 to 1 Retired Police Officers and Fire Fighters in Idaho found the billboard totally unacceptable in a Facebook post they reveal the what seems to be the hypocrisy of Lamar Advertising. One of the members of the group had tried to get a message on one of the Lamar's Billboard but was told the messaging for left-wing Boise Mayor Lauren McLean's Recall was too political, or so it appears to just not be the political message they want on their billboards;
"This billboard went up in Boise this evening. We can all agree that we need to stamp out racism, however, this photo contains a burning police car. What kind of message does that send? One of our retirees tried to get billboard space to advertise Mayor McLean's recall, but she was denied because she was told it was too political. A burning police car is ok though? We encourage you to call Lamar company executives and complain. The silent majority should not remain silent any longer. You need to speak up and flooding their office with phone calls is an easy way to help. See the comments for their names and phone numbers. #bluelivesmatter #boiseisnotportland"
In response to the perceived hypocrisy and the outrageous billboard, on August 14th from 4-6 PM (today) an event will be held in front of the Lamar Advertising office in Boise to collect signatures for the Recall Mayor McLean effort, which we have reported on separately.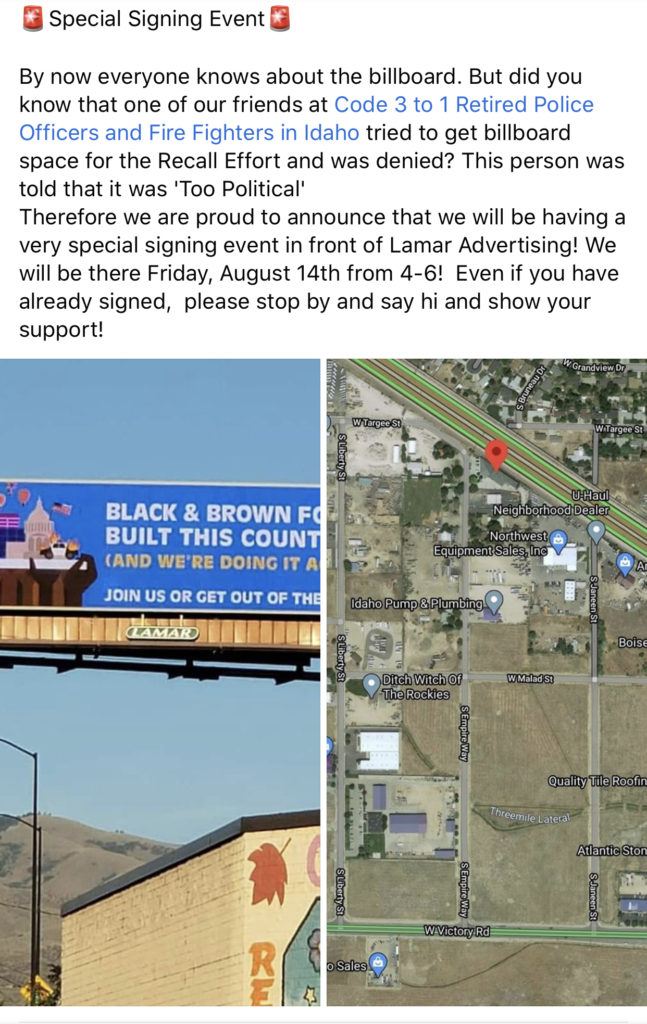 Newton and Baxter arrogantly taunted the mostly white and conservative community in a piece done by the Idaho Press. "Newton said that for those who disagree with the message, they offer many resources to learn through classes and education, and people who wish to engage in dialogue can look there. Baxter said if people don't have an immediate positive reaction, they need to ask themselves, "Why not?" Newton calls on you to reeducate yourself if you should happen to disagree with her messaging.
The pair also want to make it clear that it is a BLM billboard but has no relationship to 'BoiseBLM'. Could this be because the 'Boise BLM' advocates for peaceful interaction and according to the Idaho Press article "Newton and their friends regularly have conversations about getting their message out by "any means necessary," a nod to Malcolm X"?
Malcolm X equated violence to intelligence. The Instagram post which is pictured above was reported by some for inciting violence. Baxter states "The main purpose of this is for people to see it's not just a moment—it's a movement, I think the message is very provocative but isn't so extreme as to provoke violence." However their billboard includes a burning cop car.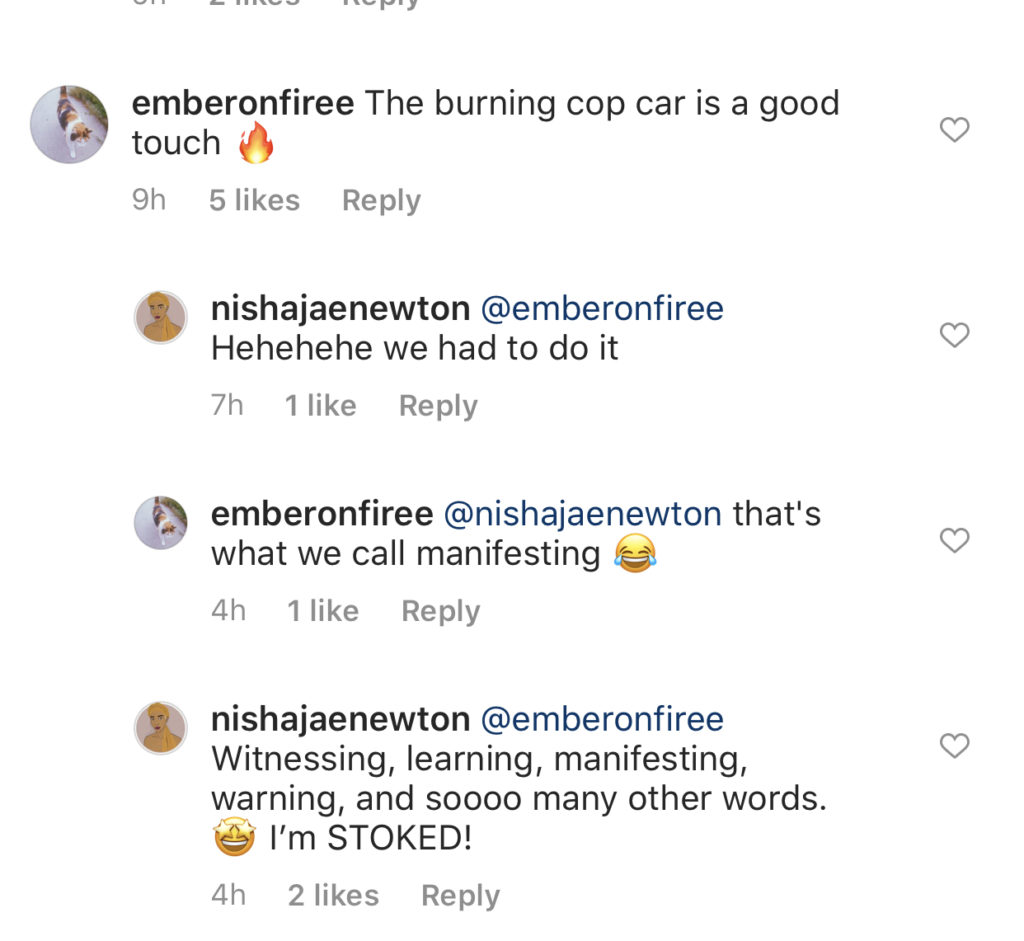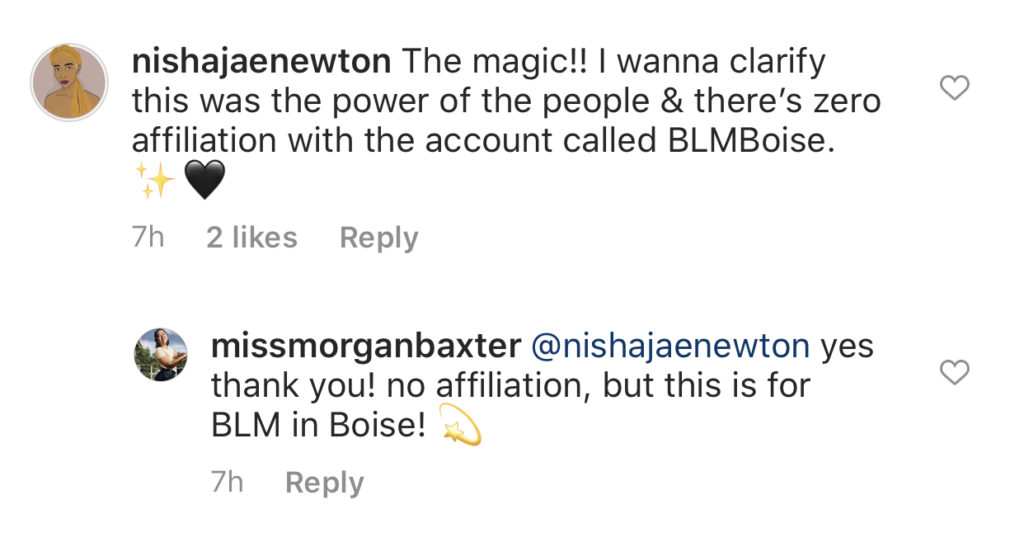 This is a breaking story and we will update as we can as the story progresses. We have reached out to three local Lamar employees for comment and have not heard back as of yet. We asked them if they think the billboard incited violence.
Latest posts by Kay Williamson
(see all)