Fox News contributor and civil rights attorney Leo Terrell yesterday put former Vice President Mike Pence on notice in a tweet after Pence recently told NewsNation's Leland Vittert that former President Donald Trump should apologize for hosting Kanye West "Ye" and Nick Fuentes for dinner.
Terrell declared in a tweet, "Sorry Mike Pence: President Trump does NOT need to apologize for anything! #Trump2024"
Many agreed with Terrell in response and some also suggested that Pence has things that he should perhaps be apologizing for instead.
Sorry Mike Pence: President Trump does NOT need to apologize for anything! #Trump2024

— TheLeoTerrell (@TheLeoTerrell) November 29, 2022
In the interview, Pence claimed that Trump "demonstrated profoundly poor judgment" by hosting the pair at his Mar-a-Lago estate.
Vittert tweeted a quote from the interview prior to the release where Pence said, "President Trump was wrong to give a white nationalist, an anti semite and a holocaust denier, a seat at the table, and I think he should apologize for it."
Oddly, though, Vittert tweeted the quote in all caps which caused White House correspondent Andrew Feinberg to ask in all caps as well, "Was he yelling?"
WAS HE YELLING?

— Andrew Feinberg (@AndrewFeinberg) November 28, 2022
Trump has held firm thus far and refused to acknowledge or denounce the positions of either Fuentes or Ye.
Senate Minority Leader Mitch McConnell (R-KY) took a veiled shot at Trump over the dinner yesterday during a press conference.
McConnell insisted that "There is no room in the Republican Party for antisemitism or white supremacy. And anyone meeting with people advocating that point of view, in my judgment, are highly unlikely to ever be elected president of the United States."
Trump responded to McConnell's apparent criticism by calling him "a loser for our nation and for the Republican Party who would not have been re-elected in Kentucky without my endorsement, which he begged me for because he was going down."
"His well-financed opponent had $93 million ready to spend when I drove him from two points down to 21 points up in a matter of days," Trump explained.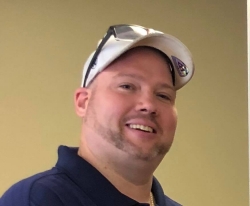 Latest posts by David Caron
(see all)