U.S. Senator Lindsey Graham (R-SC) appeared in an interview on Newsmax TV last night and said that the policies that are being enacted by the Biden administration in regards to the southern border will backfire for the 2022 midterm elections.
Graham said, "I think we're going to win in 2022, because what they're doing on the border, and by changing the Remain in Mexico policy, you're going to create a wave of illegal immigration like you had before Trump came in."
"I'll make a prediction: Immigration will be the biggest issue in 2022 just like it was in 2016. If we can get our act together, we're going to take over the House and the Senate," Graham continued.
Graham said that he believes the getting the act together starts with the Senate Minority Leader Mitch McConnell (R-KY), getting back on board with accepting Trump's help to win 2022 races in the House and Senate.
"Everything I worried about is coming true, but we can stop it if we can get the House and the Senate back in 2022… and we need President Trump to help us. Without him, we cannot get there," Graham added, noting he will sit down soon with McConnell to talk him into working with Trump.
Previously, we reported:
U.S. Senator Lindsey Graham (R-SC) has been in Tucson, AZ, touring the southern border and raising concern over President Biden's new immigration policies.
According to KOLD13, Graham met with U.S. Customs and Border Protection Officials where he visited parts of the unfinished section of border wall in Nogales, where construction has been halted by the Biden administration.
In a video taken of him standing in front of one unfinished section and tweeted yesterday, Graham said, "Even for the federal government, this is beyond dumb. I am just… this was worth the whole trip to see how stupid this is becoming."
In a follow-up tweet today, Graham clarified, "In case anyone missed it, the only reason the hole in the wall exists is the Biden Administration refuses to finish construction. The panels are ready to be put up!"
In another video tweet today, Graham said, "The Biden Administration has apparently decided to stop construction and plugging this hole in the wall. I'm going to make sure the Department of Homeland Security tells us why"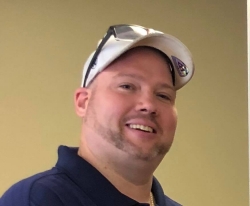 Latest posts by David Caron
(see all)