Yesterday, U.S. House Rep Liz Cheney (R-WY) spoke at a virtual event with the Ronald Reagan Presidential Foundation & Institute called "Building a 21st-Century Foreign Policy."
Washington director at the Institute Roger Zakheim introduced her and said that "She can be counted on to speak out, even when it is not popular."
After briefly discussing some foreign policy, Cheney referenced the "America first" movement that occurred early in the 20th century and decried isolationism.
Later, she turned her focus to the January 6 siege on the U.S. Capitol and said that "It's very important, especially for us as Republicans, to make clear that we aren't the party of white supremacy."
"You certainly saw anti-Semitism. You saw the symbols of Holocaust denial, for example, at the Capitol that day. You saw a Confederate flag being carried through the Rotunda," Cheney continued.
Cheney insisted that she thinks that "we as Republicans, in particular, have a duty and an obligation to stand against that, to stand against insurrection."
MAGA conservative Daniel F. Baranowski responded to Cheney's claims and said, "I hate to be so rude this early in the morning, Liz, but just go away! Go back to Wyoming!"
Baranowski insisted, "We're not the Party of White Supremacy & we're certainly not the Party of Black Supremacy either! We're the Party of Trump, the Party of America!"
I hate to be so rude this early in the morning, Liz, but just go away! Go back to Wyoming!

We're not the Party of White Supremacy & we're certainly not the Party of Black Supremacy either!

We're the Party of Trump, the Party of America!https://t.co/fAraPQmVFG

— Daniel F. Baranowski (@DFBHarvard) February 24, 2021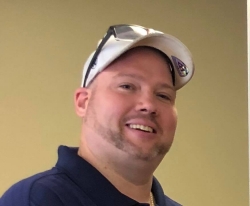 Latest posts by David Caron
(see all)