A Christopher Columbus statue was torn down by protesters in downtown Richmond last night around 9 p.m. at Byrd Park. After the statue fell, it was spray painted, then set on fire, and the vandals dragged the sculpture to the nearby Landing at Fountain Lake where it was thrown in.
Local ABC8 spoke with one of the vandals who says the action was not planned, however, explaining that the act was a build-up over time after chants of "tear it down."
At the height of the destruction, some of the vandals attacked a local NBC12 photographer, demanding he leave the scene. They waved boards in the photographer's face, grabbed him, and attacked his camera.
Crews removed the statue from the lake around 9 a.m. this morning but there is no word yet on what will happen to the statue now that it has been recovered. The statue is owned by the city of Richmond.
A time lapse of the Christopher Columbus statue being pulled out of Fountain Lake. @nbc12 pic.twitter.com/o6O2dBhnrR

— Olivia Ugino (@OliviaNBC12) June 10, 2020
It was the first statue of Christopher Columbus erected in the South and was erected to celebrate Italian-Americans.
From Richmond.com:
In the early 1920s, Richmond's Italian-American community – about 1,000 strong – wanted to gift a statue of their kinsman to their adopted home. The residents hoped city officials would add a Columbus statue to Monument Avenue, but their request was quickly rejected by a city committee. It claimed that Columbus was not only foreign but Catholic – and thus could not possibly stand among some of the Confederacy's most revered figures.
The Italian-Americans didn't give up, and the statue issue returned in June 1925. This time, the city moved forward with a resolution that would put the statue on a Richmond street – but not Monument Avenue. The decision was controversial: The Patriotic Welfare Committee, which was made up of several groups including the Sons and Daughters of Liberty and the Patriotic Order of America, unsuccessfully sought to upend it.
By February 1926, the Italian-American community started fundraising for the statue, with a goal of $25,000. Local Italian sculptor Ferruccio Legnaioli was selected to be its creator, and in June 1927, ground was broken on the Boulevard.
The statue was dedicated in December 1927. The ceremony was attended by Gov. Harry F. Byrd and the U.S. Italian envoy Giacomo de Martino.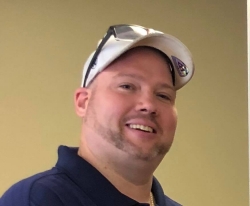 Latest posts by David Caron
(see all)