Rachel Maddow, has been hosting her show from home, as well as having guest hosts, since she announced two weeks ago that she was in quarantine after she came in contact with someone who tested positive for the Coronavirus.
Last night, Maddow revealed that it was her partner, Susan Mikula, who had tested positive for the virus and that Mikula got so sick, they thought "it might kill her."
As the New York Post reported, Maddow, 47, said she's been testing negative for the bug.
Maddow said of her partner, an artist and photographer, of 21 years, "She's gotten sicker and sicker, while I tried to care for her while still staying physically apart from her and the bottom line is that she's going to be fine, she is recovering, she's still sick but she's going to be OK."
Despite the high recovery rate from the virus, Maddow implored people to "Whatever you have calculated into your life as acceptable risk, as inevitable risk, something you're willing to go through in terms of this virus."
Maddow acknowledged that "Statistically … Probably it'll be fine for you and your loved ones, I'm just here to tell you to recalibrate that"
Maddow believes that the hospitals are full and so people need to cancel Thanksgiving in order to prevent further fatalities.
"Frankly, the country needs you to recalibrate that because broadly speaking, there's no room for you in the hospital anymore," Maddow continued.
Maddow urged her viewers to "do whatever you can to keep from getting it," and "for Thanksgiving next week, you really are just going to have it at home without people coming over."
"And yeah, that's going to suck, but that's going to suck so much less than you or somebody getting this and getting sick. Trust me," she explained.
2016 Democratic presidential nominee Hillary Clinton shared the clip of Maddow talking about it and said, "I'm so glad Susan is on the mend. I'm praying for her continued recovery."
Clinton added, "I hope everyone heeds Rachel's words here. We can all make choices to help protect the people we care about most—and other people's loved ones, too."
.@Maddow, I'm so glad Susan is on the mend. I'm praying for her continued recovery.

I hope everyone heeds Rachel's words here. We can all make choices to help protect the people we care about most—and other people's loved ones, too. https://t.co/jxWOR5TE4m

— Hillary Clinton (@HillaryClinton) November 20, 2020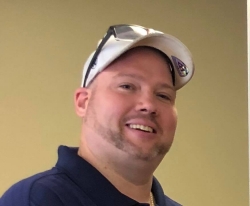 Latest posts by David Caron
(see all)