A day after it was reported that General Electric will require all U.S.-based workers to be vaccinated against COVID-19, a protest was held in South Carolina where employees walked out.
The amount of employees that walked out was tallied at around 100 according to a local report, however a Twitter user who shared a video of the walkout in a tweet put the number at 750.
From the video, it is tough to see exactly how many people there are, but the line stretches far behind the videographer with at least 5 people per row and the worker who took the video may or may not have even been in the front.
U.S. House Rep Marjorie Taylor Greene (R-GA) quote tweeted the video of the walkout and said, "God bless these brave people standing up against tyranny! #LetsGoBrandon"
God bless these brave people standing up against tyranny! #LetsGoBrandon https://t.co/q3J7sXIRoY

— Marjorie Taylor Greene 🇺🇸 (@mtgreenee) October 21, 2021
According to The State, people carried signs saying, "Jab or Job. No mandate," "My body, my choice," and "We support GE employees."
One of the signs quoted the Bible verse 2 Timothy 1:17, "For God hath not given us the spirit of fear; but of power, and of love, and of a sound mind."
In a Facebook post, the Greenville County GOP and Chairman Jeff Davis issued a statement supporting the employees that said in bold letters, "We stand in solidarity with GE power employees."
"It is not GE's place to mandate that any person in their employment be forced to undergo a medical procedure that is risky and has caused so much harm," Davis insisted.
In the statement, Davis also explained that they have been holding weekly medical freedom rallies in downtown Greenville as well as supporting a candidate for city council who is against medical mandates.
The statement also was critical of GOP Gov. Henry McMaster for not "consistently standing up for workers in this regard."
McMaster did say in a tweet yesterday, however, that he believes President Biden's vaccine mandate is unconstitutional.
This is clearly a preemptive strike by the federal government. With no state regulators in the way, the federal Labor Department will be free to penalize employers who do not comply with President Biden's unconstitutional vaccine mandate.https://t.co/IAPpcJ17Ad

— Gov. Henry McMaster (@henrymcmaster) October 20, 2021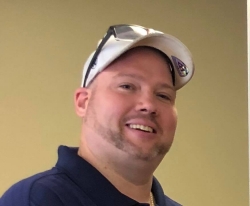 Latest posts by David Caron
(see all)