Nick Sandmann, the former Covington High School student who was falsely smeared by CNN and other mainstream media outlets in 2019 over an incident where he was confronted by a Native American while wearing a MAGA hat, had a perfect one word comeback for the station's Brian Stelter, who accused the GOP of having an "anti-media streak."
Yesterday, Stelter began with a tweet suggesting, "Florida Gov. Ron DeSantis, a regular on 'corporate media' shows like Maria Bartiromo's, says 'we all know corporate media lies, OK? They do not tell the truth. Assume what they tell you is false and then figure out why they're telling you a false narrative.'"
Stelter then quote tweeted his own tweet and complained, "GOP's anti-media streak summarized: Governor of one of the biggest states in the USA says citizens should 'assume' news outlets are lying to them."
That tweet by Stelter got badly ratioed, with many mocking the host of "Reliable Sources" but the response by Sandmann in a quote tweet completely destroyed Stelter's narrative.
"Howdy," Sandmann responded with a cowboy hat emoji.
Howdy 🤠 https://t.co/J6949IkMSS

— Nicholas Sandmann (@N1ckSandmann) October 26, 2021
Last year, Sandmann settled a lawsuit with CNN stemming from their false accusations for an undisclosed amount, as well as lawsuits with the other outlets.
Sandmann received some criticism after he was a part of Senate Minority Leader Mitch McConnell's (R-KY) reelection team and over negative tweets about then-President Donald Trump after the November election, but he recently pushed back on the idea that he is a "paid off actor."
"I never have been some paid off actor of Mitch Mcconnell either. I made what was in line with my amount of work. It was purely an election job that allowed me to gain valuable experience. I am not being paid by Mcconnell. I have my own thinking," Sandmann said in an early August tweet.
I never have been some paid off actor of Mitch Mcconnell either. I made what was in line with my amount of work. It was purely an election job that allowed me to gain valuable experience. I am not being paid by Mcconnell. I have my own thinking.

— Nicholas Sandmann (@N1ckSandmann) August 8, 2021
Later in the month, Sandmann offered half-hearted praise for Trump in a scathing tweet critical of Biden where he noted, "I'll say one thing, it's amazing how President Trump has never looked lost in space. #trump #biden"
I'll say one thing, it's amazing how President Trump has never looked lost in space. #trump #biden

— Nicholas Sandmann (@N1ckSandmann) August 22, 2021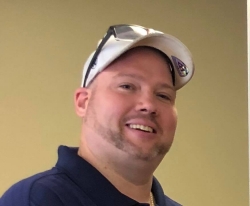 Latest posts by David Caron
(see all)