A day after North Dakota's Republican Gov. Doug Burgum vetoed House Bill 1298, Senate lawmakers did not reach the two-thirds majority needed to override his decision, voting 28-19 in favor of the proposed bill.
Burgum attempted to explain his decision and credited leadership and existing policies under the NDHSAA. "North Dakota today has a level playing field and fairness in girls' sports. We have every confidence that they will continue to ensure a level playing field for the 27,000 students who participate in North Dakota high school sports," Burgum said.
The proposed bill, which would have placed a restriction on the participation of transgender athletes in K-12 sports, died after falling four votes shy of the necessary threshold in the Senate.
Earlier in the day, the proposed bill cleared the bar needed to override the veto in the House as House lawmakers voted 68-25 in favor of the proposal.
Republican lawmakers in the Senate gave four speeches defending the proposed bill including the lead sponsor, Republican State Sen. Janne Myrdal, who told colleagues Burgum's veto overly focused on the existing policies of the North Dakota High School Activities Association instead of the merits of the bill.
Myrdal insisted, "If the (NDHSAA) adopts the policy preferred by this administration and the activists, remember that it forces our children, our parents and our schools to affirm, allow, cooperate and, yes, even celebrate a gender ideology that they might not agree to."
The proposed bill stated that K-12 public schools in North Dakota could not "knowingly allow an individual of the opposite sex" to join an exclusively male or female sports team, effectively barring transgender students from competing alongside athletes of their identifying gender.
Libby Skarin, a campaign director for the ACLU, said in a statement, "House Bill 1298 was never about leveling the playing field for student athletes. It was obvious from the beginning that this discriminatory legislation was about creating solutions to problems that don't exist and, in the process, harming some of the most vulnerable people in our state."
Governors in Mississippi, Tennessee, and Arkansas have signed their states' versions of transgender athlete restrictions in recent weeks although in neighboring South Dakota, lawmakers' attempts to override a partial veto by Gov. Kristi Noem last month came up short.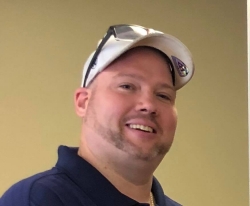 Latest posts by David Caron
(see all)