UPDATED 3:15 PM ET, SEE TWEET AT END OF ARTICLE.
Posted to Twitter today by the 'NYT Archives', an apparent New York Times throwback Twitter feed, was a link to an article that you must be a subscriber to read. That minor detail though isn't the story here. The tweet links to an archived New York Times article headlined: 'MAO TSE-TUN: FATHER OF CHINESE REVOLUTION'. Apparently an alternative spelling for the better known Mao Zedong, the caption reads: Mao Zedong died on this day in 1976. The Times said he "began as an obscure peasant" and "died one of history's great revolutionary figures."
That's it. Nothing else. That's all the caption has to say. Nothing about how Communist Chinese Chairman Mao, is known for killing more people than Hitler, or Stalin, as clearly recorded in a reading we dug up from a 2016 Washington Post article. Ilya Somin from The Washington Post starts off the article with:
Who was the biggest mass murderer in the history of the world? Most people probably assume that the answer is Adolf Hitler, architect of the Holocaust. Others might guess Soviet dictator Joseph Stalin, who may indeed have managed to kill even more innocent people than Hitler did, many of them as part of a terror famine that likely took more lives than the Holocaust. But both Hitler and Stalin were outdone by Mao Zedong. From 1958 to 1962, his Great Leap Forward policy led to the deaths of up to 45 million people – easily making it the biggest episode of mass murder ever recorded.
SEE IMAGE OF DELETED TWEET FROM @NYTArchives BELOW:
While we were writing this article we were going to post a few tweet responses to highlight the shock from other Twitter users questioning the angle here, but when we went back to the tweet it had been deleted! The image below is what you now see if you go to the original link, although we were able to grab a screenshot before refreshing.
SEE IMAGE BELOW: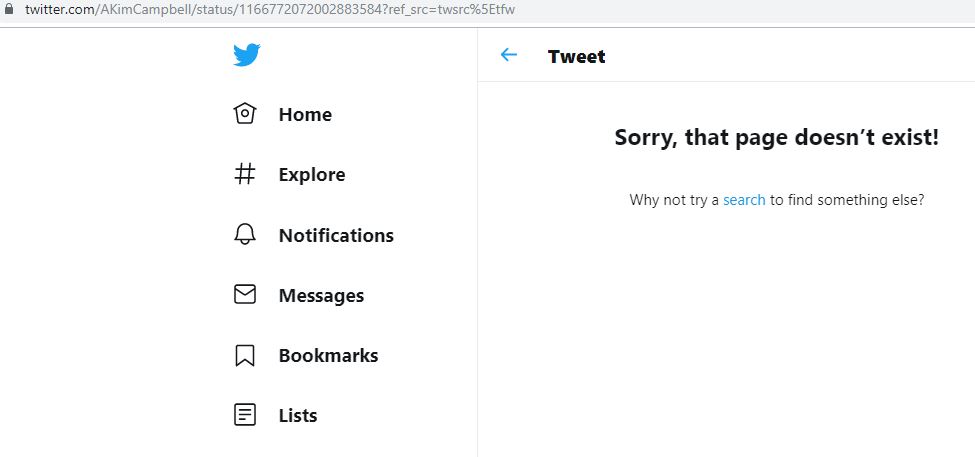 Originally we were questioning the purpose of the tweet and caption and using the feedback from other users to support our point, but since that is all gone, it will be interesting to see if the NYT Archives makes a statement or if anyone else caught this before it was deleted from its feed.
Carpe Donktum on Twitter had originally retweeted this with a satirical caption and also noticed that it has been deleted.
SEE TWEET FROM @CarpeDonktum BELOW:
Now Deleted#NYTeulogies pic.twitter.com/0EtIn2qxLz

— Carpe Donktum? (@CarpeDonktum) September 9, 2019
We emailed The New York Times and requested a statement on the deleted tweet, as of now there has been no response, we will update if we hear back.
UPDATED: CARPE DONKTUM RETWEETED A POST FROM NYT ARCHIVES WHERE THEY ADMIT TO 'LACKING HISTORICAL CONTEXT' IN TWEET BELOW:
It only lacked about 45 million individual instances of historical context, but mistakes happen right? https://t.co/wDuh1YzbkD

— Carpe Donktum? (@CarpeDonktum) September 9, 2019
Latest posts by Ian MacDonald
(see all)