Before former President Barack Obama hits the campaign trail today for his former Vice President Joe Biden, he released a video encouraging his supporters to vote for the Democratic nominee and his running mate Kamala Harris.
He also commented on the unrest that occurred over the summer, calling it "inspiring" to see "so many young people organizing, marching, and fighting for change."
Participate and vote. It's not always pretty – trust me, I know. But it's how, bit by bit, we've made progress over generations. Go to https://t.co/Q2RbOQZwv9 to make your plan, then get some friends to join you. Let's go.

— Barack Obama (@BarackObama) October 21, 2020
According to The Hill, Obama is expected to rail against President Trump like no other Democrat has during this campaign cycle, making the case for why the country can't afford to have a second Trump term. 
Democratic strategist Joel Payne said, "President Obama understands more intensely than anyone what's at stake this election as Donald Trump has systematically attacked his legacy every day since taking office nearly four years ago."
A report by the conservative Heritage Foundation, obtained by Fox News ahead of its release knocks a potential Biden administration and what it would do for immigration, saying, "The contrast between President Trump and Biden's immigration policies is stark."
The report outlines, "If Biden were to become president, he would return to many of the same immigration policies in place during the Obama administration. This would include protecting and expanding the DACA program, admitting at least 125,000 refugees annually and seeking amnesty for 11 million illegal aliens."
President Trump has been criticizing Biden for his economic plan to raise taxes on those making above $400,000 a year and tweeted out twice today against him.
"Remember, BIDEN is going to raise your taxes at a level never seen before. This will not only be very costly for you, it will destroy our economy, which is coming back very rapidly," Trump said in the first tweet.
Remember, BIDEN is going to raise your taxes at a level never seen before. This will not only be very costly for you, it will destroy our economy, which is coming back very rapidly.

— Donald J. Trump (@realDonaldTrump) October 21, 2020
The president then said, "Your 401k's will crash with Biden. Massive Biden Tax and Regulation increases will destroy all that you have built! Additionally, 180 Million People will lose their Private Healthcare Plans."
Your 401k's will crash with Biden. Massive Biden Tax and Regulation increases will destroy all that you have built! Additionally, 180 Million People will lose their Private Healthcare Plans.

— Donald J. Trump (@realDonaldTrump) October 21, 2020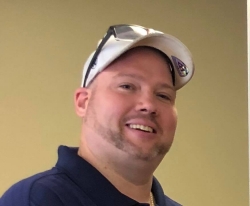 Latest posts by David Caron
(see all)