First MSNBC and CNN cuts away from the daily Coronavirus task force briefings, now Fox News. Yesterday, we reported that Fox Business (owned by Fox News Media) had parted ways with Trish Regan for "increased Coronavirus coverage" and then Fox News decided a panel discussion during The Story, which is hosted by Martha MacCallum, was more important.
This is just the latest misstep from the network, who has yet to part ways with Donna Brazile, despite her telling RNC chairwoman Ronna McDaniel to "go to hell".
Dr. Kelli Ward, chairwoman of the Arizona Republican Party, was one of the first to comment on Twitter by saying "America wants to hear more about education and more directly!" Education Secretary Betsy DeVos was one of the speakers missed after the cutaway.
What the heck? Why did @FoxNews just cut away from the WH Daily Briefing? America wants to hear about education and more directly!

— Dr. Kelli Ward ?? (@kelliwardaz) March 27, 2020
This morning, Bill Mitchell, host of YourVoice America and ardent Trump supporter, lamented the fact that they would cut away when there is a "Superbowl audience" watching.
So even FoxNews is cutting away from Trump's Briefings now? Seriously? These briefings get Superbowl audiences. Why would anyone cut away?

— Bill Mitchell (@mitchellvii) March 28, 2020
While there is no TV right now that can touch the Super Bowl's 99.9 million TV viewers from this year, Monday's briefing drew 12.2 million people on CNN, MSNBC, and Fox News, ratings similar to those of Monday Night Football.
CSpan was apparently the only option last night for most TV viewers as multiple users said that is where they switched to once it was cut from Fox News, as well as CNN and MSNBC.
Clearly nobody did. The moment she came to the podium CNN, MSNBC, and even Fox News all cut away from the briefing — forcing me to turn to CSPAN so I could hear her remarks.

— Louis Klarevas (@Klarevas) March 27, 2020
I was really disappointed @FoxNews cut away but I quickly switched to @cspan and caught the rest of it. https://t.co/62HVksmsHZ

— Bitter Clinger (@BitterClinger13) March 28, 2020
When @FoxNews cut away from @POTUS Trump presser, I immediately cut away to @cspan to continue watching.

— Warren Smith (@Wsmithc10) March 28, 2020
The irony of this is that members of the press were clamoring to hear from DeVos with CBS reporter Paula Reed asking VP Mike Pence if DeVos would be at the briefings to answer questions about education, children, etc with the Coronavirus now effectively shutting down schools across the country.
@PaulaReidCBS asks @VP
if @BetsyDeVosED
will be at WH coronavirus briefings to answer questions about education, children etc /w the #coronavirus now effectively shutting down semesters across the country. VP says Devos is expected to be at briefing " this week."

— Fin Gomez (@finnygo) March 23, 2020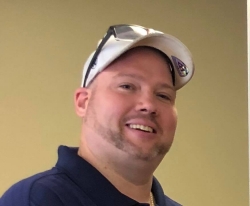 Latest posts by David Caron
(see all)