Sarah Huckabee Sanders was kicked out of the Red Hen in Lexington, Virginia for being President Trump's White House Press secretary at the time. Stephanie Wilkinson claimed she received tons of hate mail and was forced to quit her position as executive director of a local business group.
Despite her beliefs, you would think Wilkinson, a radical leftist, might have toned down her activism some, but you would be wrong. A group called the Virginia Flaggers based in the Richmond, Virginia area is reporting that Wilkinson recently posted a picture of a huge Black Lives Matter sign sitting smack dab on top of a memorial statue erected in the cemetery where Confederate General Stonewall Jackson is buried.
Many think this is crossing the line and that cemeteries should be off-limits, even if you don't support honoring Confederate Heritage peacefully as the Virginia Flaggers do. Wilkinson doesn't seem to think graves are off limits though, just like she doesn't think kicking people out of restaurants for their political beliefs are off-limits.
The Virginia Flaggers posted the picture of Wilkinson's Facebook post, using what they see as desecrating Jackson's grave to honor Martin Luther King Jr. day in some twisted way. The Virginia Flaggers posted:
"This woman, the owner of the Red Hen restaurant in Lexington, where conservatives are refused service, is bragging about desecrating and disrespecting a veteran's grave. Once again, these heathens display the very real difference between us and them. We honored our ancestors peacefully over two days this weekend. They chose to celebrate their hero by desecrating a grave and bragging of their exploits."
See image: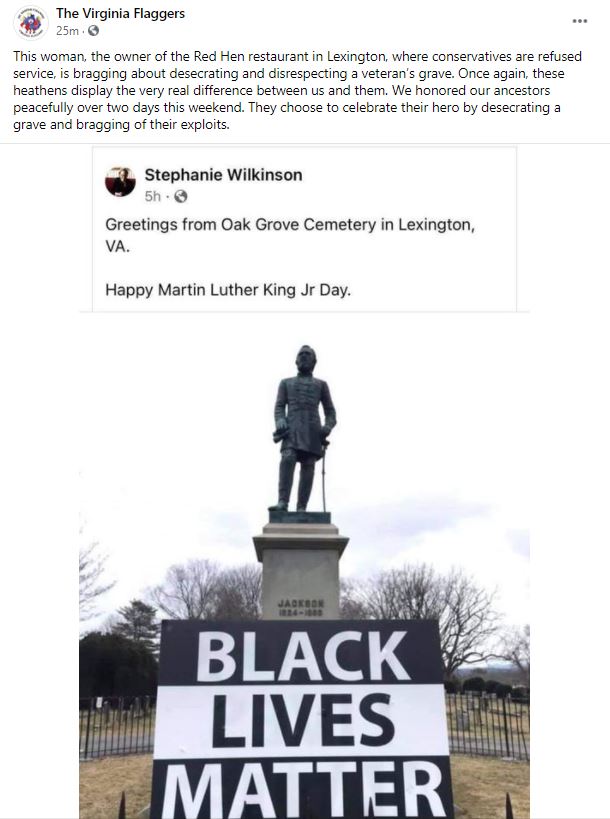 It's an uphill battle in today's leftist dominated media to try to garner sympathy for right-wing or Confederate History buffs and causes, but this one sure does take the cake. It'll be interesting to see if any Democrats make a point that this is taking things too far. We don't think they will but time will tell.
Many Confederate statues have already been removed or destroyed in Virginia, and other states, which has been promoted as an 'anti-racist' cause. Many of the people who support their history and heritage are not racist though, which begs the question of "what are they really trying to erase?"
Latest posts by Ian MacDonald
(see all)