America First U.S. House Rep Paul Gosar (R-AZ) took a trip recently to the southern border wall with America First Virginia Republican U.S. House candidate Jarome Bell.
The two toured the wall and picked up trash that had accumulated around the structure.
Bell said Gosar "invited me down to see for myself what illegals do when they illegally cross our borders into these small towns."
Gosar shared a picture of their visit which showed him climbing on the massive structure to give people perspective on the size of the structure.
"When President Trump said the people's wall would be big and beautiful he wasn't kidding. I climbed a gate just to show perspective. Let's finish the dang wall," Gosar tweeted.
Gosar's tweet has triggered leftists, who have descended on it with sarcasm and hate.
Twitter user Carol Stanton said, "The wall isn't 'beautiful' and the migrants can climb over it. You could have stood on the ground and shown the same size difference between you and the wall. Why pull such a stupid stunt?"
The wall isn't "beautiful" and the migrants can climb over it.
You could have stood on the ground and shown the same size difference between you and the wall. Why pull such a stupid stunt?

— Carol Stanton (@castanton) May 2, 2021
Anti-Trump Twitter user and apparent cat lady "Munchkin's Nana" responded, "If that's your idea of beauty you obviously are not in your right mind. Of course we all already knew that."
If that's your idea of beauty you obviously are not in your right mind. Of course we all already knew that.

— Munchkin's Nana 😺🌊 (@Munchkinsnana) May 2, 2021
Another Twitter user who apparently supports Mark Cuban running for president in 2024 accused Gosar of "Pandering to the base of idiots. Well played Paul."
Pandering to the base of idiots.
Well played Paul.

— Cuban2024 (@cuban2024) May 2, 2021
In a Facebook post, Bell added about the visit, "Biden stopped and made this place and America less safe. Human and drug trafficking comes through here nightly and disappears across the United States."
If elected, Bell said that "One of my top priorities as Congressman of the 2nd district of Virginia is to get the wall completed and keep this from making its way to Virginia."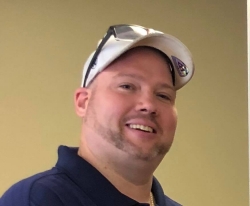 Latest posts by David Caron
(see all)