Following the election last week, Vice President Mike Pence issued a statement which said that he stands "With President Trump. We must count every LEGAL vote."
I Stand With President @realDonaldTrump. We must count every LEGAL vote.

— Mike Pence (@Mike_Pence) November 6, 2020
Today, he reiterated the stance as he said that he told the Vice President's Team, "It ain't over til it's over.. and this AIN'T over!" He added that "President Trump has never stopped fighting for us and we're gonna Keep Fighting until every LEGAL vote is counted!"
Told @VP Team Today, "it ain't over til it's over.. and this AIN'T over!" President @realDonaldTrump has never stopped fighting for us and we're gonna Keep Fighting until every LEGAL vote is counted! ??

— Mike Pence (@Mike_Pence) November 9, 2020
At the final rally before the election, in Michigan, Pence vowed to continue draining the swamp. "Like the president says, a little deeper than we thought it was," he said at the time, chuckling.
"We found the plug and we're going to pull it tomorrow," he promised.
President Trump announced today that " Christopher C. Miller, the highly respected Director of the National Counterterrorism Center (unanimously confirmed by the Senate), will be Acting Secretary of Defense, effective immediately. Chris will do a GREAT job!"
He decided that "Mark Esper has been terminated" and that he "would like to thank him for his service."
…Chris will do a GREAT job! Mark Esper has been terminated. I would like to thank him for his service.

— Donald J. Trump (@realDonaldTrump) November 9, 2020
Esper undermined the president in June when he said that "the option to use active-duty forces in a law enforcement role should only be used as a matter of last resort, and only in the most urgent and dire situations. We are not in one of those situations now."
He said at the time that he did "not support invoking the Insurrection Act" and White House Press Secretary Kayleigh McEnany responded that it was not up to him and that Trump has the "sole authority" to move forward with the measure.
Riots in cities throughout the country are now a commonplace occurrence whenever there is a perceived excessive response by law enforcement to a situation involving a black person and still on-going daily in cities like Portland.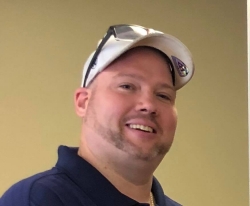 Latest posts by David Caron
(see all)