Virginia GOP Congressman Denver Riggleman, who was primaried in June by Congressman-elect Bob Good, has been on a news tour lately.
In a recent interview with Forbes, he accused Republicans in Congress of a "massive grift" in refusing to acknowledge the results of the election and claiming President Trump appeals to groups that are "anti-Semitic" and "anti-American."
We reported earlier that Riggleman has been retweeted by Illinois GOP House Rep. Adam Kinzinger as well and likely was on a list of 25 elected officials in Washington that believe Joe Biden won the November presidential election.
Not long after we published that article, Riggleman confirmed his inclusion on the list, retweeting an earlier tweet that Trump had made expressing surprise and asking for the names of those on the list.
Trump exclaimed in the tweet, "25, wow! I am surprised there are so many. We have just begun to fight. Please send me a list of the 25 RINOS. I read the Fake News Washington Post as little as possible!"
Riggleman retweeted Trump's tweet and, along with a hand-waving emoji, said, "Denver L. Riggleman III I'm on the list."
Denver L. Riggleman III

I'm on the list 👋🏻 https://t.co/VSJKHf85Fu

— Congressman Denver Riggleman (@RepRiggleman) December 5, 2020
Colorado GOP Congresswoman-elect responded to Riggleman by referencing the fact that he had been primaried. She said, "That would be why you lost your election!"
That would be why you lost your election!

— Lauren Boebert (@laurenboebert) December 6, 2020
In December of last year, after Trump endorsed Riggleman, he told the president "Thank you Donald Trump for your endorsement. I've got your six. #MAGA."
Thank you @realDonaldTrump for your endorsement. I've got your six. #MAGA

— Denver Lee Riggleman III (@Denver4VA) December 17, 2019
An article released earlier this year by National File revealed that Riggleman discussed "horse fisting" in a pre-congressional radio interview with the "100 Proof Radio Show." The term "horse fisting" refers to an act of bestiality with a horse.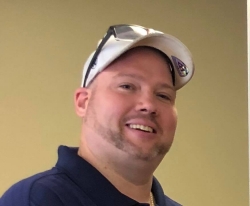 Latest posts by David Caron
(see all)