In November's "listening session" as she calls it, the leftist Boise, ID Mayor who has pushed for "defeating white dominant culture" is now making shockwaves again. The Mayor's office has since given a statement to Media Right News claiming that her "manifesto" referring to the anti-white dominant culture was a policy list submitted to her by the community and not an official policy plan.
The people who submitted the list of ideas to Mayor McLean appeared to be mostly left-wing radicals. When we reached out to the Mayor's office for comment on who picked the list and we did not get a response, although they did receive the question.
We at Media Right News would like to preface this story by saying, we don't advocate for breaking any laws and we take Covid-19 very seriously, as well as all reasonable mitigation efforts.
Nonetheless, some of McLean's comments in her new video relating to updated Boise, Idaho Covid-19 enforcement measures seem a little odd to us. The video below is about 30 minutes long, but we are focusing on the part that starts a little after 4:00 and goes on for a couple of minutes.
In the segment we would like to highlight, Mayor McLean says she would like to use a "scalpel" approach to enforce Covid-19 mandates on non-compliant businesses. She also said she would make it easy for businesses who are in full compliance to contact the city for resources, including how to report when customers are non-compliant.
"We're looking at a couple different things right now. We have learned in the year that, (feels like a year) nine months that we've been working through Covid that there are things that we can do to protect the public and to protect our health and without taking a full, a wide swipe at shutdowns. So from the city's perspective, we're working right now on coming up with a scalpel approach if you will to ensuring that businesses that aren't following the protocols are held accountable" she said.
The Mayor went on to say that she is looking for ways for the city to have teeth outside of the public health district, which has already been putting out restrictions of their own. She says they will soon be announcing ways for businesses to reach out to them and the how they will hold businesses accountable who don't follow mandates.
"At the same time, we want to partner with businesses that do want to protect the public and enforce those mask mandates as well as other protocols, and so there will be a way for businesses to call us for support when they have customers who aren't following the rules".
It's unclear exactly what the city will do to those customers who aren't following the rules when and if businesses decide to report them.
Start the video around the 4:00 mark:
Idaho Freedom Foundation reported in part on apparent connections to left-wing financier George Soros and Boise, ID Mayor McLean:
The truth is that, for the last decade, McLean has been building a network of more than 40 secret donors, hand-in-hand with some of the biggest dark money fundraisers in Democratic Party politics. She works closely with John C. Stocks, the chairman of Democracy Alliance, a group founded by George Soros, Tom Steyer, and a few others that boasts a network of 100 or so megarich donors that has funneled $1.83 billion to groups on the left since 2005. Rather than pool money, DA, as the group is known, sets the priorities for outside spending by its partners, and in turn, much of the left.
Previously we reported in part how residents earlier in the summer burned their masks at City Hall to protest mask mandates. A picture circulated with Mayor McLean caught off guard in public with her mask off next to someone unidentified.
It's unclear if the person with her was a family or household member, rendering her non-mask-wearing photo op harmless, but the picture certainly wasn't good optics for her.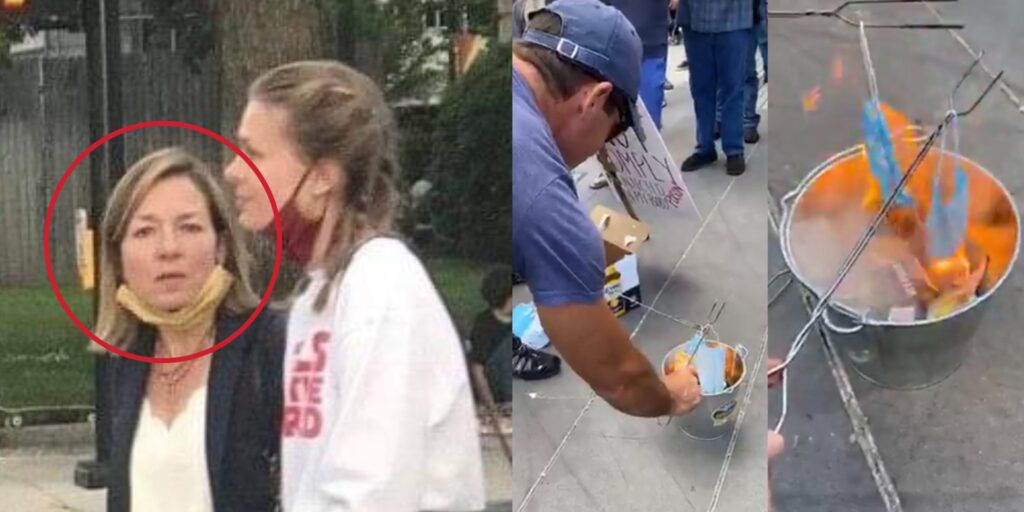 "I instituted a mandate in the city of Boise in early July, it took effect on July 4th, The pushback from anti-maskers is not going to prevent me from doing what I have to do when I have to do it to protect public health," she said in today's newer video embedded above.
Time will tell which businesses these new plans will affect and how.
Latest posts by Ian MacDonald
(see all)