Republican Congressional candidate Teddy Daniels took aim at his potential opponent in next November's election for the Pennsylvania's 8th District, Democrat U.S. House Rep Matt Cartwright in an interview with Steve Bannon.
Daniels described Cartwright, "Here's a guy who's scared of his own shadow."
"While this guy was eating steak and lobster dinners back in 2012, I was slinging lead, sleeping in dirt in Afghanistan, so his opinion of me means nothing, absolutely nothing," Daniels explained.
Here is my latest Bannon War Room hit. Great show. I think I got Steve laughing when I said Sally Jessy Raphael.https://t.co/faMAKIDQFg

— Teddy Daniels for Congress (@DanielsCongress) August 4, 2021
Daniels was responding to comments made by Cartwright that were published in a recent article by The Philadelphia Inquirer where he said that on Jan. 6, "There were 86 Capitol police people who were injured that day."
"They were out there fighting essentially a medieval battle against half-crazed lunatics," Cartwright claimed.
The article claimed that Daniels sought attention for his campaign last Wednesday by "trying to mock police officers who testified this week in a hearing about the Jan. 6 insurrection at the U.S. Capitol."
In the article, they also attempted to question Daniels' service as a police officer after he said in a Facebook post that the U.S. Capitol Police officers who testified weren't "real street cops" because they became emotional while telling their stories.
Daniels is thus far the only Republican who is challenging Cartwright in the district, which is considered an R+5. He noted that it is likely to get redder after the redistricting process.
In 2020, the district voted for former President Trump, but Cartwright was able to pull it out at the Congressional level and was elected to his 5th term.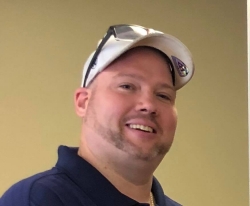 Latest posts by David Caron
(see all)