It was reported today that Texas Republican State Rep Bryan Slaton filed House Bill 2862 requesting funds to finish the southern border wall separating Texas and Mexico, a security project that began during former President Trump's administration. 
Though Trump completed 450 miles of new barriers along the southern border, one of President Biden's first executive orders ceased the wall's construction, leaving segments still unfinished, as we have previously reported.
Slaton said that, "President Trump fought to bring real border security and was opposed by Republicans and Democrats in Congress."
"While hundreds of miles of new wall were built under his leadership, the Biden administration has already ceased border wall construction. It is time for Texas to stand up and finish the work that President Trump started. Let's finish building the border wall now," Slaton explained
Slaton's bill will not only complete the wall but also require Texas' Republican Governor Greg Abbott, to seek reimbursement from the federal government for its construction costs, as well as naming the barrier the "President Donald J. Trump Wall."
In a tweet of an article covering the bill, Slaton said, "It's time to finish what President Trump started! Let's build the wall!"
It's time to finish what President Trump started! Let's build the wall!https://t.co/8j3aTcCcx8

— Bryan Slaton (@BryanforHD2) March 5, 2021
In addition to that proposed bill, Slaton also filed a bill this week meant to protect historic monuments in the state.
From The Texan:
"On this Texas Independence Day, it is important that we remember the lessons and stories of the past and preserve our storied history for the future," Slaton stated.
"At a time when monuments and statues representing our history and traditions continue to be destroyed across America and even within Texas itself, it is more important than ever that we protect our historic monuments in the public square."
The legislation would not grant all monuments total immunity. Rather, it establishes an orderly process for removing most of them.
Currently, the Texas Historical Commission and the State Preservation Board wield the power alongside the legislature to remove or change monuments that have stood for less than 20 years. Slaton's bill would limit this power to the legislature alone.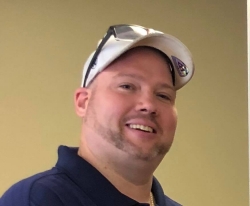 Latest posts by David Caron
(see all)