Country Music legend and Trump supporter Charlie Daniels passed away tragically on July 6th of 2020, almost two years ago. The Charlie Daniels band has sold over 13.5 million albums and they are famous for the song "The Devil Went Down to Georgia".
The "Charlie Daniels Band Team" runs the social media for Charlie Daniels now. The team recently reported that Daniels' gravesite was vandalized. Although it appears that it could have been worse, and thankfully it wasn't, it's still frustrating for them for sure, as they continue to grapple with the loss of the legend, who loved his country.
"Thanks to someone stealing a dogwood sapling and watering bag this weekend (seriously!) & someone gluing a spouse's military ID on the marble of Charlie's marker a few months ago, MJPD will be increasing patrols near his grave and video surveillance will soon be installed – TeamCDB"
See Instagram Screenshot: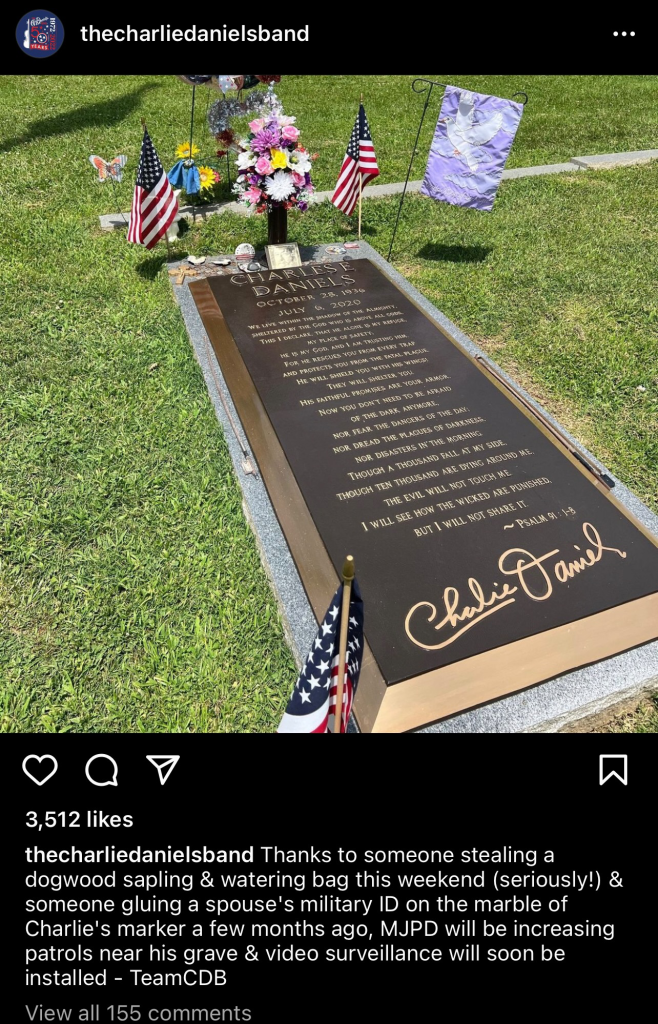 The cemetery is near Daniel's former home in Mount Juliet, TN. Friends and family are upset about this situation and would like things like this to not happen anymore it appears. It is reported that Charlie Daniels Jr. is likely the one who posts under "Team CDB" in most cases for his late father on social media.
Since the social media post, the team added:
"Per article: "The Monday afternoon (June 27) message makes clear how Daniels' family feels about leaving items behind with permanence."
What the article doesn't make clear is that several months ago, an expired military dependent (spouse's) ID of a woman who has since been divorced from her military spouse was superglued to the marble on the marker. The family welcomes anyone leaving items, what they do not want is to have items glued to the marker, or have any trees that the family planted nearby (with the full consent of the cemetery owner) dug up and stolen. – TeamCDB"
It's hard to believe someone would bother the grave of anyone, much less a patriotic legend such as Mr. Daniels. Gravestones and cemeteries are some of the most sacred things, similar, although not exactly the same, as statues of historical figures.
As such, these things should be off-limits to anyone who considers themselves a reasonable person, regardless of activism status or political status. Perhaps it wasn't a "hater" who bothers Daniels' final resting spot in this life, but rather a lack of intelligence or respect. If this is the case, then we simply hope this doesn't occur again, to Team Daniels or anyone else for that matter.
Latest posts by Ian MacDonald
(see all)