With Whoopi Goldberg still on a network-induced temporary hiatus, ABC's "The View" still apparently has no desire to tone down some of their anti-Trump rhetoric.
The show brought Alyssa Farah on this past week as a guest host, who was in the news last year for disavowing Donald Trump after previously serving as his communications director in the White House from April 2020 until Dec. 4, 2020.
In a segment on Friday, co-host Joy Behar began by reading a question from the "Dear Deidre" column at news outlet, The Sun.
The question was, "Should I ban my toxic mother from my wedding?"
In typical "The View" fashion, it gave Farah an opportunity to invoke Trump in it somehow which allowed Behar to describe his supporters as being in a "cult."
Farah said that her father, Joseph Farah, and stepmother skipped her wedding that took place at the beginning of November due to her anti-Trump stance.
Joseph Farah is the editor and CEO of the popular right-wing website WorldNetDaily or WND.com.
"The MAGA strength runs really far and deep," Alyssa Farah claimed.
After co-host Ana Navarro said that she thought political differences should be put aside regardless "for that day," Behar asked Farah if she missed her father at the event.
"You know, listen, I enjoyed my wedding. I got to be with my new family," Farah responded, chuckling.
Should toxic family members be banned from weddings? #TheView co-hosts and guest co-host @Alyssafarah Griffin weigh in. https://t.co/cVclFZyKV0 pic.twitter.com/2wZLraAEks

— The View (@TheView) February 12, 2022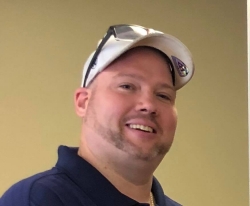 Latest posts by David Caron
(see all)