Former President Donald Trump celebrated news that two-term U.S. House Rep Anthony Gonzalez (R-OH) was no longer running for re-election in 2022.
In an earlier statement, Trump referenced the fact that Gonzalez was one of ten GOP congress members to vote impeachment in January and said, "1 down, 9 to go."
Trump then released another statement where he called Gonzalez a "RINO" and that "He can now get himself a job at ratings-dead CNN or MSNBC."
In addition, Trump touted the candidacy of Max Miller, who he had previously endorsed, and noted that Miller was already ahead in the polls anyway.
Statement by Donald J. Trump, 45th President of the United States of America pic.twitter.com/RchPApVsKc

— RSBN ?? (@RSBNetwork) September 17, 2021
Trump supporter Jenna Ellis shared an article about Gonzalez's decision to drop out last night and quipped, "Every RINO should follow this courageous example."
Arizona GOP State Sen Wendy Rogers quote tweeted Ellis and exclaimed, "WOW." Rogers then wondered, "Starting of a trend?"
Last night, we reported:
According to the New York Times, U.S. House Rep Anthony Gonzalez (R-OH) has dropped out of the race for re-election in 2022 and called former President Donald Trump "a cancer for the country".
After news broke of the announcement, Gonzalez tweeted a statement confirming the news.
In the statement, Gonzalez acknowledged the "political realities of the day" and claimed that there is a "chaotic political environment."
Alex Bruesewitz was one of the first conservatives to celebrate the news on Twitter.
"RINO Anthony Gonzalez of OH-16, one of the ten FOOLS to vote to impeach Trump, is NOT seeking re-election because he is down HUGE in the polls to Trump endorsed Max Miller," Bruesewitz exclaimed.
Bruesewitz added, "ALL RINOs MUST GO! FOLLOW OH-16's next congressman, the American First Patriot @MaxMillerOH!"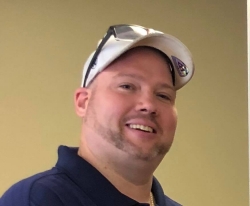 Latest posts by David Caron
(see all)