President Donald Trump's son, Donald Trump, Jr., suspects the Democratic National Committee (DNC) made a deal with 2020 Democrat presidential candidate former Mayor Pete Buttigieg to drop out of the presidential race to "try to screw Bernie."
So Pete gave this interview this morning and dropped out a few hours later?

I wonder what's going on that no one is reporting? Did the DNC make a deal with him to try to screw Bernie?

Something is very shady here. https://t.co/hTbxqoIIrX

— Donald Trump Jr. (@DonaldJTrumpJr) March 2, 2020
Trump Jr reacted to Buttigieg laying out his campaign's victory delegate strategy on Meet The Press on the morning of the day he dropped out of the race.
"So Pete gave this interview this morning and dropped out a few hours later?" Trump Jr began.
"I wonder what's going on that no one is reporting? Did the DNC make a deal with him to try to screw Bernie?" he added.
"Something is very shady here," he wrote.
Pete Buttigieg is OUT. All of his SuperTuesday votes will go to Sleepy Joe Biden. Great timing. This is the REAL beginning of the Dems taking Bernie out of play – NO NOMINATION, AGAIN!

— Donald J. Trump (@realDonaldTrump) March 1, 2020
President Trump also had his suspicions of the matter, writing on Twitter, "Pete Buttigieg is OUT. All of his SuperTuesday votes will go to Sleepy Joe Biden. Great timing. This is the REAL beginning of the Dems taking Bernie out of play – NO NOMINATION, AGAIN!"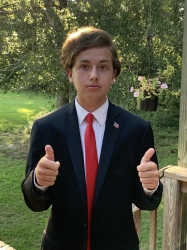 Latest posts by Reed Cooper
(see all)