Democratic presidential nominee Joe Biden appeared at a rally earlier today in Dallas, Pennsylvania and had some trouble throughout his speech. He pointed out that it was cold so perhaps that was part of the problem.
When he first began the speech, it appeared that he said there was "10 days left to go" until the election, when the election is only 4 days away. Pennsylvania is able to accept mail-in ballots mailed out on election day up to 3 days after the election.
He later echoed his words from the most recent debate, as he said that we have a "dark winter" ahead and over 200,000 people could die from the Coronavirus.
The most egregious mistake was when he said, "I'll lead an effective strategy to mobilize trunalimunumaprzure." Trump supporter Courtney Holland created a video with the Biden flub and then she added in a scene from the movie "Liar, Liar" where Jim Carrey can't get the words out.
Guys I can't stop laughing 😂 Wait for the end….. pic.twitter.com/T6ICjlU0Sj

— Courtney Holland 🇺🇸 (@hollandcourtney) October 30, 2020
The mistake came when Biden was criticizing President Trump on trade with China. He was attempting to claim he would be able to do what Trump was unable to do.
Biden later referenced his son Beau, who served in the military and was awarded the Bronze Star and the Conspicuous Service Medal, but he did not bring up his other son, Hunter.
Full video below: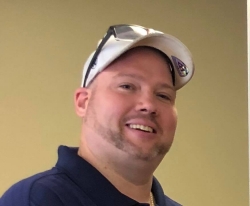 Latest posts by David Caron
(see all)