Former President Trump had yet to weigh in on Alec Baldwin's fatal film set shooting until yesterday, when he appeared on Chris Stigall's radio show.
Previously, a fake statement had been posted on social media that claimed Trump had said, "A great President – me – once said 'I could shoot somebody and I wouldn't lose any voters, Now Alec Baldwin, a total loser, has taken his impression of me to a new low by testing out this theory. Alec, you aren't me! Now you're going to prison, as you should have because of that awful, terrible job you did on SNL – which I have hosted."
Trump told Stigall that he had yet to weigh in simply because no one had asked previously because they are mainly focused on how the country is being "destroyed."
After being asked, Trump unleashed on Baldwin and said that in regards to the shooting, he believes that "He had something to do with it."
"He's a troubled guy, there's something wrong with him. I've watched him for years. He gets into fistfights with reporters. Look, I don't like reporters, I mean I like some are great, some are talented, but you don't get into fistfights, Trump explained.
In 2013, Baldwin shoved a New York Post reporter and told him, "You don't want to have a problem do you? Don't get next to me."
Trump continued, "I mean, everything he does, he's a volatile guy. He's a nut job and I think that if you know, when they hand him a gun, if it's loaded, if they handed me a gun, I would never point it at somebody and shoot it, you know. I don't care about checking the gun, you can look at it any which way… they hand you a gun you're not going to point it at somebody him a gun if it's loaded."
Later on, Trump discussed Baldwin's performance on NBC's Saturday Night Live where he played the role of Trump when he was president.
Trump stated, "He did, I thought, a poor job of imitating me. Alec Baldwin was terrible at imitating me and by the way, if I thought he was good and I didn't like his politics or I didn't like him, I would have said he was good but he was terrible."
"In my opinion, he had something to do with it, but if nothing else, how do you take a gun, whether it's loaded or not loaded, how do you take a gun, point it at somebody that's not even in the movie, and just point it at this person and pull the trigger, and now she's dead," Trump concluded, summing up his thoughts on the shooting death.
Watch the interview below: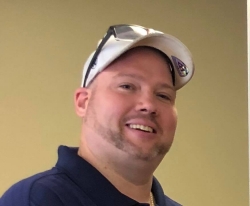 Latest posts by David Caron
(see all)