Former President Donald Trump urged former GOP U.S. House Rep. Sean Duffy to run for governor of Wisconsin in 2022 against current Democratic Gov. Tom Evers.
Trump made the announcement in a statement through his Save America PAC where he said that he is "Working hard to get very popular and capable former congressman Sean Duffy of Wisconsin to run for governor."
"He would be fantastic! A champion athlete, Sean loves the people of Wisconsin, and would be virtually unbeatable," Trump declared.
Duffy stepped down from his seat in September of 2019 after serving four terms to care for a newborn daughter with a heart defect.
Trump then noted, "His wife, Rachel, is likewise an incredible person."
"They are both doing very well, so this would be a big sacrifice, but hopefully it will be a sacrifice that will be made for the Great State of Wisconsin and its wonderful, hardworking people. Run Sean, Run! (A little spin-off on the great Herschel Walker.)" Trump concluded.
that's what I've been saying!! pic.twitter.com/oXzgcVHyIu

— Evita Duffy (@evitaduffy_1) October 16, 2021
Duffy, who has been a vocal supporter of Trump and made many appearances on Fox News, entered into the limelight with Rachel when they first appeared together on MTV's "The Real World."
The Milwaukee Journal Sentinel reported one possible hurdle to a run by Duffy. The couple sold their Wausau house in September and list a home in northern New Jersey as their current residence, according to state records.
They had moved to Wausau previously to be closer to an airport for the commute back and forth to Washington D.C. when Duffy was in office.
Former Lt. Gov. Rebecca Kleefisch has already announced her gubernatorial bid, but clearly she isn't Trump's choice for the nomination.
In a statement, Kayla Anderson, the spokeswoman for the Democrat Party of Wisconsin said, "Whether the GOP nominates Radical Rebecca or a washed-up reality TV star, the GOP nominee for governor will be entirely too extreme for the state of Wisconsin."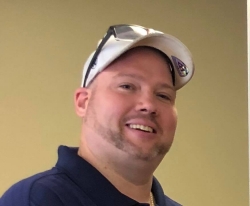 Latest posts by David Caron
(see all)