The U.S. Senate last night officially voted against the Dem-led election reform bill as Sens Kyrsten Sinema (D-AZ) and Joe Manchin (D-WV) sent a clear message that they would not back down from bending the rules on the filibuster.
Manchin spoke from the Senate floor during the debate on the election reform legislation and reiterated his support for the filibuster, insisting that eliminating it, even just for voting rights, would "be the easy way out."
"It wasn't meant to be easy. I cannot support such a perilous course for this nation when elected leaders are sent to Washington to unite our country, not to divide our country," Manchin declared.
Manchin explained, "We're called the United States, not the divided states. And putting politics and party aside is what we're supposed to do. It's time that we do the hard work to forge a difficult compromise that can stand the test of time."
Sinema had previously spoken on the Senate floor and said that she would not support altering the filibuster either.
The vote on the election reform bill was 49-51 and broke evenly along party lines, but Majority Leader Chuck Schumer (D-NY) switched his vote to "no" in the end for procedural reasons.
Following that vote, the Senate then voted down a motion by Democrats to change the rules and impose a "talking filibuster" aimed at passing the legislation without Republican support once the debate ended.
That vote was 48-52 along party lines as well with Manchin and Sinema breaking with the Democrats.
Joe Biden issued a statement following the vote where he said, "I am profoundly disappointed that the Senate has failed to stand up for our democracy. I am disappointed — but I am not deterred."
"We will continue to advance necessary legislation and push for Senate procedural changes that will protect the fundamental right to vote," Biden insisted.
I am profoundly disappointed that the Senate has failed to stand up for our democracy. I am disappointed — but I am not deterred.

We will continue to advance necessary legislation and push for Senate procedural changes that will protect the fundamental right to vote.

— President Biden (@POTUS) January 20, 2022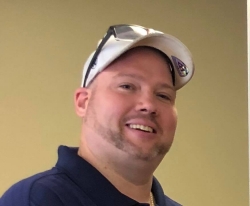 Latest posts by David Caron
(see all)