Two St. Louis sheriff deputies are out of a job after working as security for "defund the police" advocate and U.S. House Rep Cori Bush (D-MO)
The firings come after they were caught doing the work without receiving permission from St. Louis Sheriff Vernon Betts, who said that it wasn't the first time either.
Betts insisted in a phone interview, "I didn't fire them for working security for Cori Bush. I fired them for not following proper procedures for working secondary."
"So they just happened to be working for Cori Bush. Doing what they did, they would have gotten fired no matter who they were working for," Betts explained.
One of the two deputies who was fired, Tylance Jackson, complained, "I do feel that the hand that was dealt to us was unfair and unjust, You let us go, but you still have a plethora of individuals doing that but you don't say anything."
KMOV News 4 reported that the sheriff also said he was concerned because neither Jackson or Thompson have current individual private security licenses to work in the city, which the media outlet has verified.
Jackson however, doesn't believe he needed one and that the firing was politically motivated and suggested that it "Because of the client we worked for and we didn't push the agenda of the sheriff on the client."
In April, Bush celebrated a move by the city to eliminate millions in police funding in what she called a "historic" vote.
Bush also defended a violent riot that broke out in February at a downtown jail in St. Louis this year. In April, when another riot broke out at the same complex, Betts was recorded in a video saying that he guessed that he was in charge of the situation because former Public Safety Director Jimmie Edwards had just retired.
Previously, we reported:
In a rant that is sure to make mainstream Democrats nervous, U.S. House Rep Cori Bush (D-MO) defended having private security due to "attempts" on her life, but still wants to defund the police.
In a clip tweeted by NRCC communications director Mike Berg, Bush tells CBS viewers, "I'm going to make sure I have security because, I know, I have had attempts on my life and I have too much work to do."
"There are too many people that need help right now for me to allow that, so if I end up spending $200,000, if I spend 10 more dollars on it, you know what, I get to be here to do the work," Bush continued.
Bush then demanded of her critics, "So suck it up and defunding the police has to happen. We need to defund the police and put that money into social safety nets."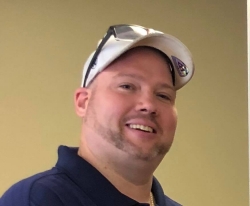 Latest posts by David Caron
(see all)