In an interview last week, U.S. House Rep Michael Waltz (R-FL) said that he was calling the U.S. Capitol "Fort Pelosi" and in an interview yesterday, U.S. House Rep Lauren Boebert (R-CO) used the same phrase to described the guarded and fortified building.
During the interview with Fox Business' Maria Bartiromo, Waltz said, "I'm still a serving national guardsman, and I can appreciate that those soldiers were pulled out of their businesses, their jobs, their families, and they're sitting there with this open-ended mandate."
Waltz continued, "I've repeatedly asked, as have a number of my colleagues, the Army, the National Guard Bureau, the Department of Justice, what is the threat that is so large, specifically, that requires more soldiers on Capitol Hill than we have in Iraq and Afghanistan combined? And then what are we going to do about it? What are we going to do going forward?"
"This is just this kind of open-ended mandate. I'm calling it Fort Pelosi at this point. The Guard can't serve as her private security force, and we need answers and we're not getting any," Waltz lamented.
During an interview yesterday with TMZ while walking towards the Capitol, Boebert told the interviewer that she had to exit the interview into "Fort Pelosi" prior to walking through a checkpoint.
The interviewer was able to get one last question in and asked her if she thought if at some point she would "be able to bring" her "gun to work."
Boebert replied while walking away, "Who says I don't?"
TMZ pointed out that "for the record, she could have a gun with her while going to her Congressional office … which is not in the Capitol. While there are metal detectors, members of Congress are generally allowed to go around them."
The tabloid also made it clear that they did not fault the House Speaker Nancy Pelosi (D-CA) and instead pinned the blame on the "insurrectionists."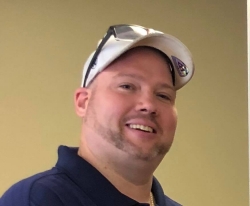 Latest posts by David Caron
(see all)