Former Virginia House speaker and current GOP Delegate and possible Gubernatorial candidate Kirk Cox is calling out a Democrat professor for her virulent comments against Republicans.
Today he posted a screenshot from Twitter that appears to be from Mary K. Gayne, a Democrat professor at James Madison University in Harrisonburg, Virginia. Cox is saying that no one, no matter who you are or what you think, should be speaking in this manner, let alone a professor of a prestigious college who is supposed to be in a leadership role.
"Take a look at this tweet below from a professor at my alma mater, James Madison University. This is completely inappropriate and should be condemned by the University." Cox says.
He goes on in his full-throated attack which can be read completely below, above the deleted tweet. Although you can't find that tweet on Gayne's feed anymore, you can easily find multiple others bashing Trump, and one showing a photo of a ballot filled out for Joe Biden.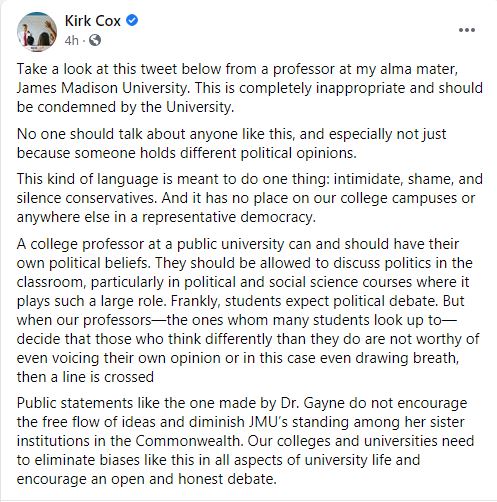 The tweet read: "I'm not linked to a party but, this year, I'm just straight up voting the Democratic ticket. Not even going to think about other variations. The Republican Party can die for all I care. They've demonstrated lack of loyalty to democracy & the US Constitution. F*** 'em all." See below: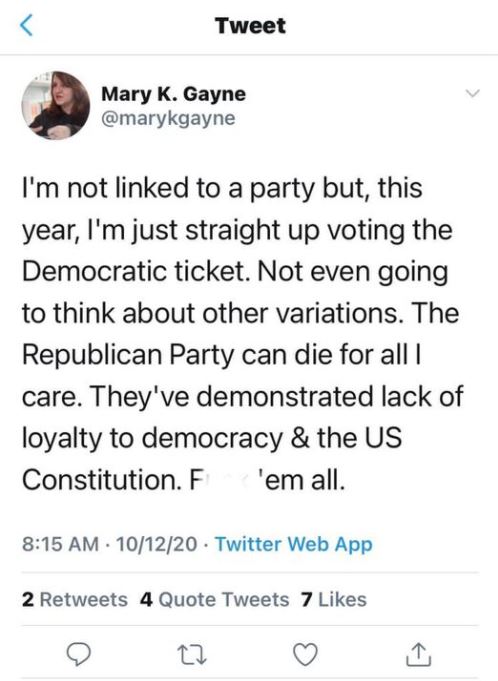 It seems more and more as professors and colleges skew left, that more of this type of rhetoric is accepted. Will Gayne be held accountable? Or will this just be brushed off as she is a leftist and all the people who are in charge of her likely feel the same way in our view? Time will tell. Most people can probably agree they are read to get this election in the rear view mirror.
Latest posts by Ian MacDonald
(see all)