The article has been updated as of 9:00 PM ET confirming that the Trump supporter who is voting for Phil Hernandez is indeed not a 'waterman'. See the edit at the bottom of the story.
The Virginia State General Assembly is closely divided between Republicans and Democrats, with a slight majority going to the Republicans, for now. There is an upcoming election on November 5th, and Democrats want to change that. Phil Hernandez, a Hampton, Virginia native, but who recently moved to Norfolk, Virginia from Berkley California wants to help the Democrats efforts by unseating the incumbent Republican in the 100th State House District, Robert Bloxom Jr. Recently Hernandez was admitted to the State Bar of California after getting his law degree at UC Berkely in 2016.
According to Ballotpedia, all seats are up for grabs this time around in the General Assembly. Of the house race they stated:
All 100 seats in the Virginia House of Delegates are up in 2019. The primary was on June 11, 2019, and the general election is on November 5. The filing deadline for candidates was March 28, 2019.
The 100th House District consists of the Eastern Shore of Virginia, which is made up of Accomack and Northampton County, and a small part of the city of Norfolk. The Bloxom family goes back generations on the Eastern Shore of Virginia, with Robert himself having a background of running small businesses in the area, including a commercial oyster farm. He also runs Bloxom Auto, which is actually located in Mappsville, near the small town of Bloxom, Virginia.
Phil Hernandez is looking to break into the community by making it appear as though he has support and ties to the locals on the Eastern Shore. Of course many on the Eastern Shore, probably do support him, especially Democrats, but the picture he is trying to paint is being seen by some as misleading.
After previously being called out for claiming to be visiting the area for campaigning, a local police officer quickly pointed out on social media that although he may have done some campaigning on this particular day, he was actually in Northampton County to appear before a judge for a previous speeding ticket he had received.
More recently, Hernandez has been mailing out flyers with a picture of a man being depicted as a local 'waterman' who voted for President Trump but is now choosing to support Hernandez for 'having the Eastern Shore's best interests in mind'. Media Right News did a little digging and found out some likely information, although we tried and failed to reach "Sam Ashbee" for comment. We found that, based on a Facebook post from what appears to be his profile, he looks like he was indeed a supporter of President Trump's. But this is about where the truthfulness of the Hernandez mailer starts to wander.
SEE PUBLIC FACEBOOK POST FROM SAM ASHBEE: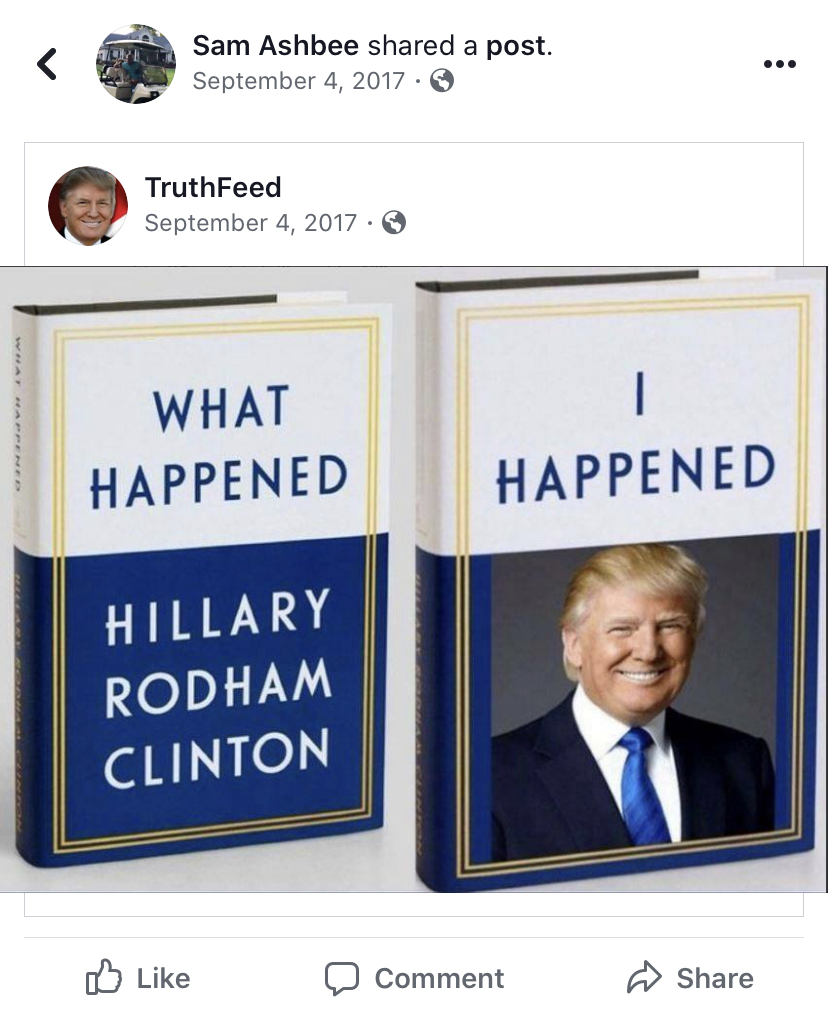 A legitimate local 'waterman' who resides in Northampton County, Virginia, got wind of the mailer being sent out and is claiming that this person, Sam Ashbee, is possibly a recently relocated local, but definitely not a waterman, based on the well-known definitions in the local area. While Ashbee does appear to have a property in the area based on comments posted and research done, he likely hasn't been here more than a few years or so and certainly is no 'waterman'. Waterman, as defined in Wikipedia and well known in the area is someone who is known for being a commercial fisherman, a jack of trades of sorts. It appears Mr. Ashbee is likely a recreational fisherman, but very doubtful that he has roots in the area for being a commercial fisherman or 'waterman', which is what the flyer loosely implies.
SEE FACEBOOK POST FROM ACTUAL LOCAL WATERMAN BELOW: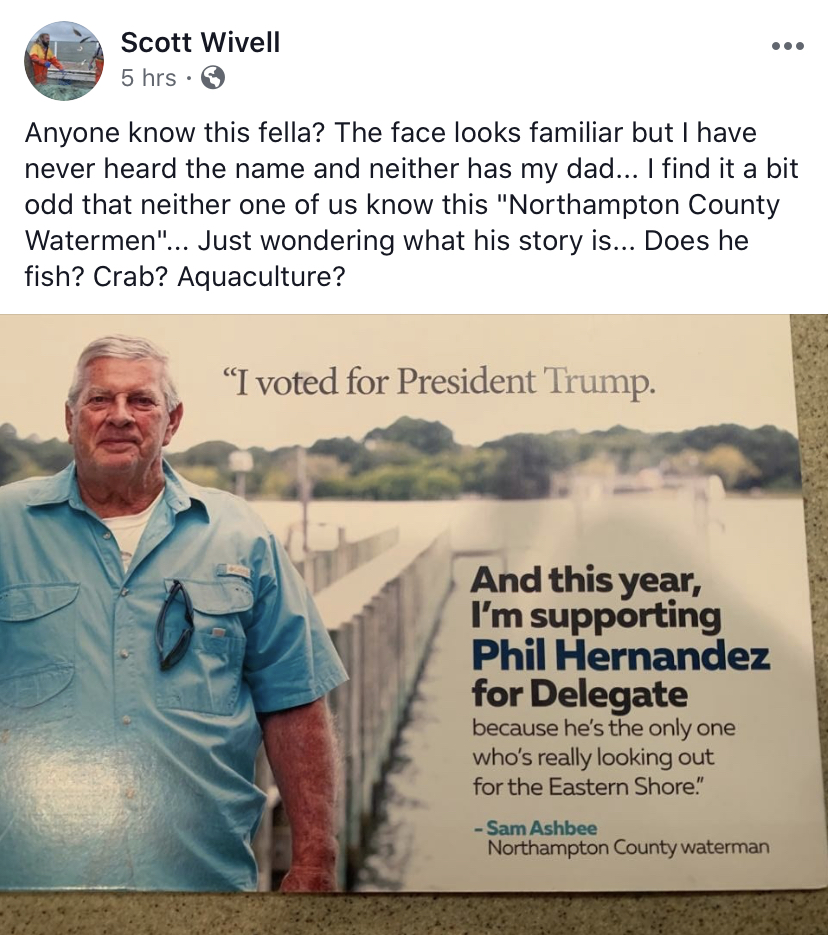 After local man Scott Wivell posted his grievance, many others took to the comments to chime in as well, either saying they have never heard of the man, in an area where almost all the local watermen know each other or did know of the man, but said no way was he a 'waterman' .
SEE COMMENTS BELOW: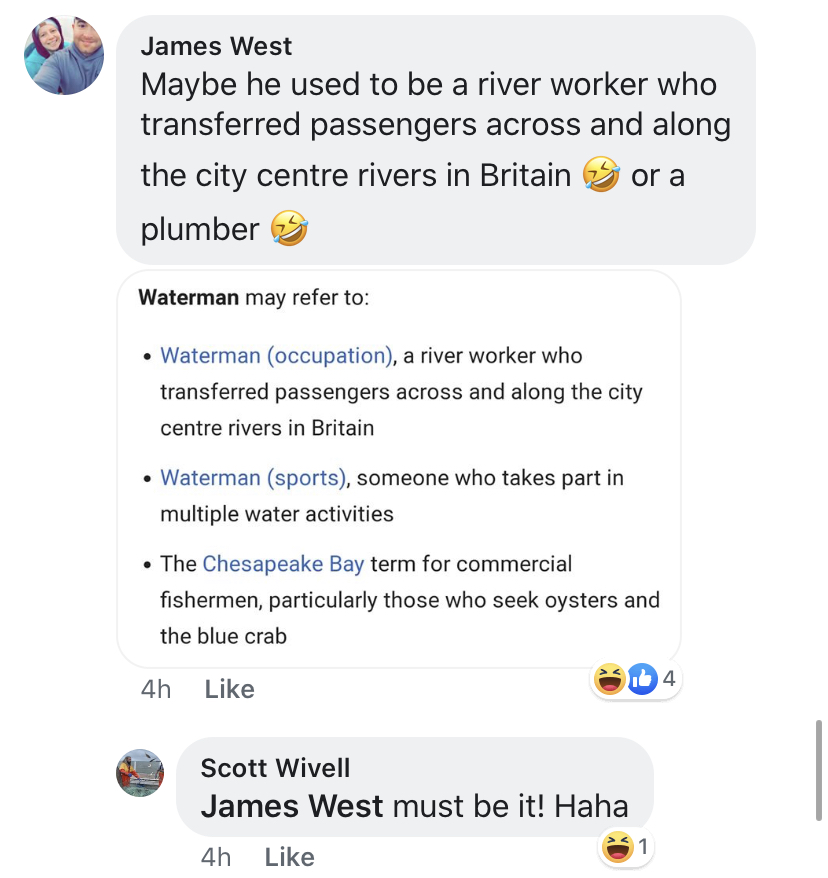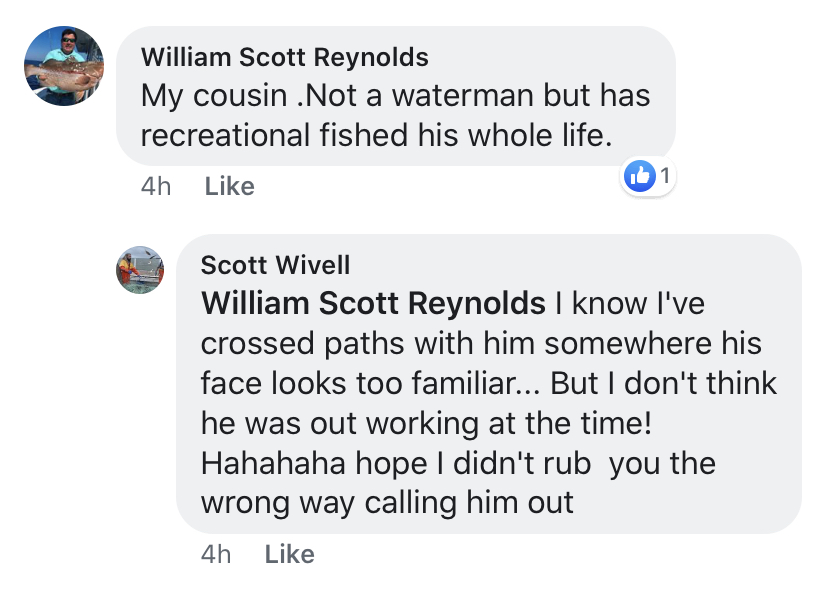 One Facebook commenter and likely local claimed the ad perturbed him so much, it actually added reasons for him to vote for Delegate Robert Bloxom Jr.'s re-election. See below comment: "Just added to the reasons why I'm voting BLOXOM".
SEE MORE POSTS BELOW: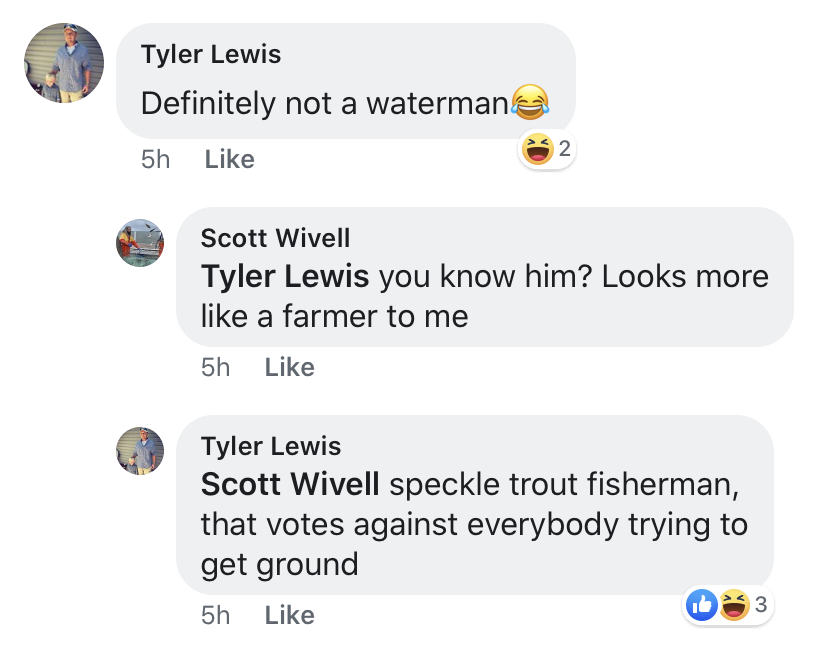 While Sam Ashbee could not be reached, this article is supported by our research that he is not a commercial waterman or as commonly known as 'waterman' at all, but a transplant from the Virginia Beach-Norfolk area and former Norfolk Naval Shipyard employee according to what appears to be his Facebook profile pic.
SEE IMAGE BELOW:
Bloxom lays out his case for his re-election plainly in a Facebook post below with a long list of dozens of accomplishments he has made for the local area. Phil, however, has done a few photo ops, events and campaign trips in the area, but can't make claims remotely close the ones featured in Bloxom's list.
SEE FACEBOOK POST BY ROBERT BLOXOM BELOW:
Phil Hernandez has made some time to get out to the Eastern Shore and knock some doors and meet with different folks on multiple occasions and can be seen below door knocking in Exmore, Virginia, close to the border of Northampton and Accomack County. In another video below the first one, where it's hard to tell which town he is in, he mentions a few government-funded programs he wants to bolster in the video, but nothing about bringing high paying jobs the area, something the region desperately needs.
SEE VIDEOS BELOW:
Although he is out funding Bloxom, 50% of Phil Hernandez' donations for this campaign is coming from out of state, and approximately 1/7th from the state of California. It's kind of odd that Mr. Ashbee would claim that Hernandez is "the only one who's really looking out for the Eastern Shore" (of Virginia) with a funding situation like that.
Delegate Bloxom on the other hand, has received a whopping 96% of his donations from within the state of Virginia. Perhaps this 'Trump Voter" on Hernandez's flyer has switched parties, has a personal agenda against Delegate Bloxom or has some other odd reason for claiming that Hernandez is looking out for the Eastern Shore region currently, but that remains to be seen. In the end, the voters of the 100th District will have to decide on November 5th, who they deem to be the most credible and best suited to represent them in Richmond, Virginia's capital city.
UPDATED: Sam Ashbee has confirmed on his Facebook page that he does NOT claim to be a waterman but has been "fishing the Chesapeake bay since 1966". This solidifies the claim that Phil Hernandez exaggerated the 'waterman' story to try and gain favor with locals.
SEE FACEBOOK COMMENT RESPONSE BELOW: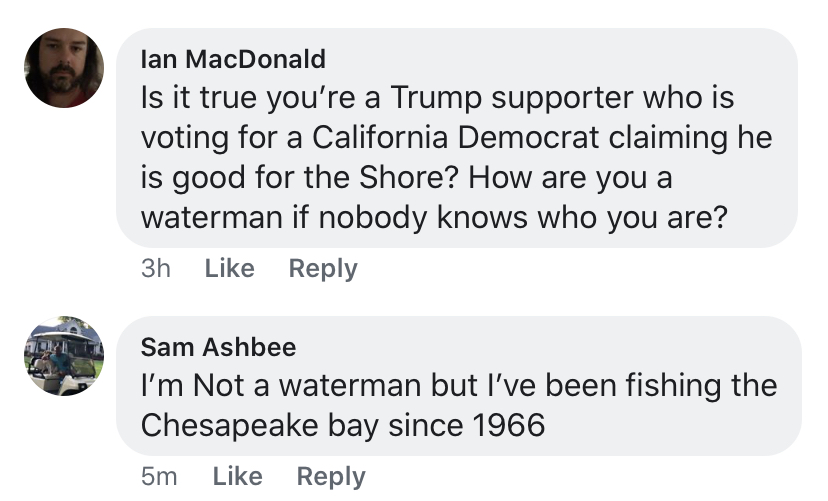 Latest posts by Ian MacDonald
(see all)